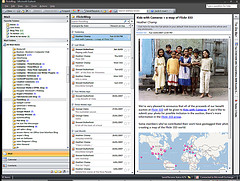 If your notebook or desktop computer gets stolen or become lost somehow, what is the one most important data or file that you wished you had backed up just before it got lost? Image by Stephen Edgar – Netweb.
Depending on how you use your computer, I believe most corporate users would say that it is their data in Outlook since it contains:
Important task lists
Client email address (contacts)
Important email messages
Important files attached in emails
Meeting and appointment dates (calendar)
For many including myself, I seldom back up my Microsoft Outlook emails because it is a hassle to do so. Since my .pst file is quite large, it does take some time to copy over to an external drive.
For others who are not as technically savvy, backing up the data in Outlook can be a difficult task since he /she needs to take many steps in order to copy the .pst file out to an external storage. One important step includes ensuring Outlook is completely closed before it allows you to copy the file.
See a video below on how to backup your Microsoft Outlook email manually without the help of any software /tools:
If you prefer alternative ways to backup you Outlook, then in today's post, I'll be recommending three tools to help you backup your Microsoft Outlook emails easily. Hopefully this post helps you select a tool to backup your emails just in case anything terrible happens to your machine and your Outlook becomes inaccessible.

I like DriveHQ Email Manager because it allows individual emails to be backed up on an online storage. This is very handy especially when you need to only backup certain important email rather than the entire .pst files. Backing up emails is as simply as dragging and dropping emails from the locate to the remote location. See a sample screenshot below.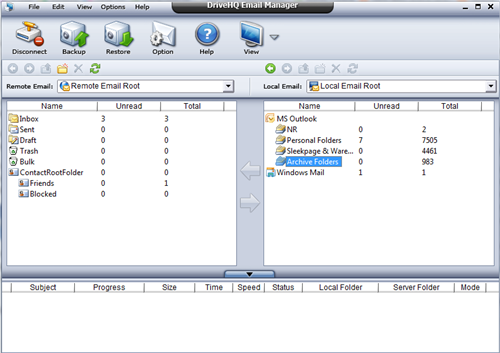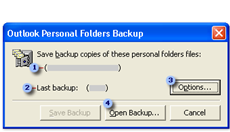 Microsoft Outlook Personal Folders Backup tool helps to backup the .pst file to an external location. What I like about this tool is its ability to remind us to backup our Outlook every X number of days, which we can set. This small sized (160kb) tool by Microsoft comes in very handy to remind the busy ones to perform a backup of their .pst file to an external storage. This tool however makes me wonder why this feature isn't built in Microsoft Outlook in the first place.

Amic Email Backup is a handy and easy to use backup tool for Microsoft Windows based PCs designed to create and restore backup copies of your Outlook database. Amic Email Backup can save emails, address book, settings, mail and news accounts, message rules, blocked senders lists and signatures to a single, compact, compressed backup file that can be easily restored when necessary. Download a free trial (aff).
* Updated (20 Oct 2009)

Another Outlook backup tool worth mentioning is Handy Backup which has an advanced Outlook Backup preset which is common for all versions of Outlook, Outlook Express and Windows Mail and lets you perform Outlook backup and restore easily.
————————————– End ——————————————-
There you go, three tools to easily backup your Microsoft Outlook data.