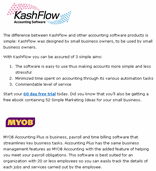 The other day I published a post about award winning small business accounting and finance software.
My sister who just started her very own music school told me that she found the list of accounting software quite interesting as she was trying to manage her accounts for the music school. The two software which she considers to be able to fulfill her requirement are MYOB and Kashflow.
However, she mentioned that allthough both the accounting software are award winners, there is still a price tag to it which she cannot afford for now. At the moment she is using just the windows notepad to keep track of all her sales and expenses. Then I asked her, don't you have Excel? And she said nope!
She then asked if there is a better and easier way for her to manage her accounts in a more organized way and most importantly be able to auto calculate various figures which notepad can't do. Initially i thought of telling her to download OpenOffice which has Calc similar to Excel. But then I thought, maybe there is an accounting package out there which is free and easy for her to use.
Searching through the Internet, I found a feature packed and free alternative to MYOB and Kashflow called Microsoft Office Accounting Express 2009.
With Microsoft Office Accounting Express 2009, she can fullfill the following accounting needs:
Create quotations
Create invoices
Create receipts
Track expenses
Reconcile online bank accounts
Track time spent by her employees
Store information related to customers, contact, vendor and employees
Generate reports
and many more features..
Once I downloaded the application and installed it, I went over to her music school and showed her what Microsoft Office Accounting Express 2009 could do.
Immediately she could see how this accounting software is able to help her manage many aspects of her business accounting. To simply illustrate, see a comparison of what she can do with notepad against Microsoft Office Accounting Express 2009.
FROM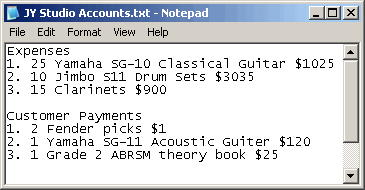 TO
So many features you shouldn't run your business without it.
If you're still managing your business without an accounting software, Microsoft Office Accounting Express 2009 would be a great start. Download this free alternative to MYOB and Kashflow today!