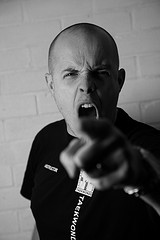 Your chief technology officer (CTO) just shouted in the IT department meeting room today, "We need a new ERP system!, and Bob… you're in charge of this project!"
Your nightmare just began. You realize that there are way too many erp software vendors out there in the marketplace today.
How do you go about choosing the best ERP solution which fits your organization and most importantly fits within the IT budget.
Selecting and implementing the wrong ERP system within the company could cost the company a bomb and the sadest part, a kick in the ass from your boss.
Fear not for the worst as this site, ERP Evaluation Center will be the saviour.
In ERP Evaluation Center, it helps you to evaluate and shortlist erp solutions which best fits your organization's environment. There are some simple steps to the evaluation process.
1. Define your organization's business needs
Select environment which best fits your organizations requirements – e.g. Process Manufacturing, Engineer To Order, ERP – Distribution
Select functionality within your organization – e.g. Account Management, Document Management, Budgeting
Select the industry your organization belongs to – e.g. Banking, Automotive, Health Care
Select the structure of your organization – Single Site, National or Multinational
Select number of sites required by your organization – e.g. Single site enterprise, 2-10 sites, 11-20 sites
Select nature of business – e.g. Manufacturing, services
Select range of annual revenue
Select total budget and total users (This is good to control cost and budget)
Select types of services required – e.g. Training, maintenance, customization
Select range of number of employees
Select vendor's level of presence
Select language support required for the ERP solution
Select time frame for implementation
Select outsourcing services if required
Indicate reason for this evaluation
Indicate server platform your organization plans to use
Indicate database platform your organization plans to use
Indicate industry standards
2. Get a shortlists of ERP solutions
3. Start comparing the ERP solutions
At the end of the evaluation you will be presented with a list of ERP solution which have been shortlisted based on the selections which best fits your organization. With this shortlist you can now easily present the shortlisted solution to your CTO and let him make the decision on which ERP solution to go for. To make better decisions, simply call for a demo by the solution providers. It's always good to find out any case studies they may have, proven implementation records and most importantly, the cost.