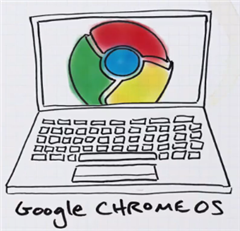 Have you seen or even tried the developer version of Google's Chromium OS?
When I read news about this new OS by Google being released and made available to download as an Image (.vmdk file), I couldn't wait to try it out.
All I know about the Chromium OS is it's supposed to start up very fast and allows us to gain access to our common applications such as email, web browsing, YouTube, google docs without much delay.
If you're like.. wait a minute, I've heard of the Google Chrome browser but what is Chrome OS? Is it supposed to be an OS which replaces our Windows or Mac OSX?
Check out this video below if you've just heard of Google Chrome OS:
So now that the developer version is ready for us to try out, this is what I had to do in order to test the Google Chromium OS (Developer build):
Download the Chrome OS Image
Download and install Sun VirtualBox
Now with both VirtualBox installed and Chrome OS Image unzipped, it's time to load the image into VirtualBox. If you have trouble getting this to work, check out TechCrunch's guide on installing the Chrome OS.
I got  mine to work without much problem. Upon launching the image, this is what I got: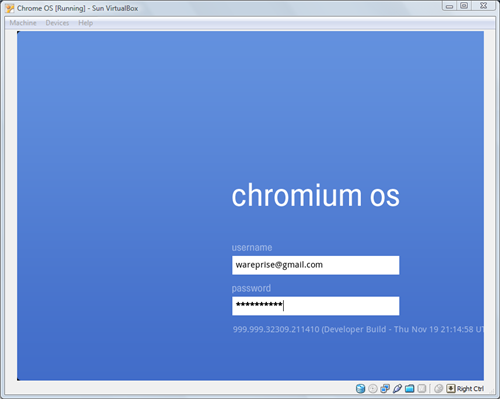 A standard login page! I entered my username and password, click Enter and it began to log me in.
So wait a minute! Does this mean that the Chromium OS require us to be connected to the Internet? Looks like it. Hehe.. this is cool. Stateless….
Once logged in, this is what I saw.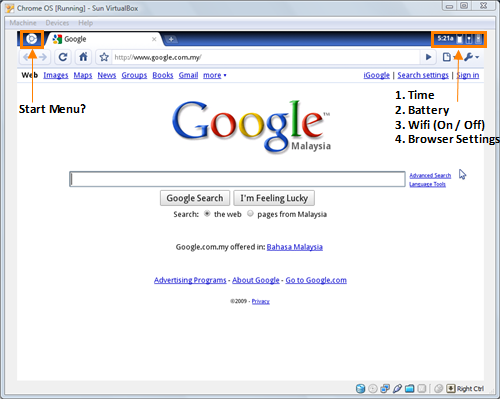 It looks like it's a Google Chrome browser! Yippee… no desktop!
On the top left is a Chrome OS button, I think it's a start menu.
On the top right is the time, battery indicator, wi-fi (on/off) capability and lastly the browser settings.
So looks like the task bar is being placed on top rather than at the bottom.
Clicking on the top left Chrome OS button, it shows a Google Account login page which required for my password again. Upon entering the detail, this is the screenshot: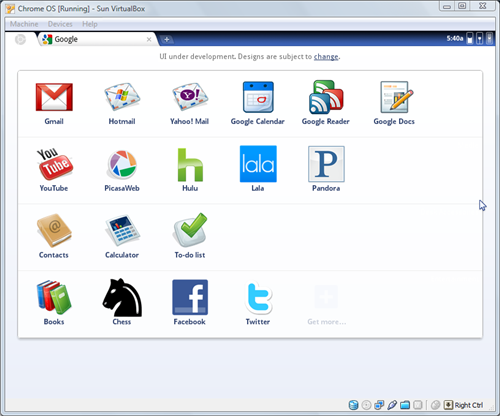 Notice that it's stated that the UI is under development and the designs are subject to change. But for now, I like what I'm seeing. Very simple and straight forward access to all our common web application. Even my mom knows what to do with it!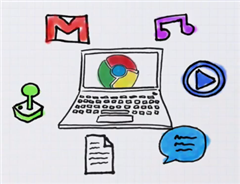 It looks like as more and more applications are being hosted on the cloud, the concept of this Operating System might just work for many.
If this OS allows us to install Virtual Machines to run Windows-based applications whenever necessary, I don't see why I won't be switching to this OS as the host OS, when it's made available.
Most of my time are spent on emails and working on web-based application anyways. As long as the OS starts up quickly and doesn't give me much problems with viruses or BSOD, it should work fine for me.
What do you think about this concept of Google's Chromium OS? I'm definitely looking forward to its launch date!