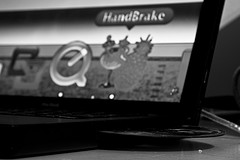 Yesterday while I was trying to view a webcast which was recorded in Apple .MOV format, this error message appeared on my browser. photo credit: Francis Bourgouin
"A newer version of QuickTime is already installed!"
There's no way I could get the webcast to start on my browser since the plugin keeps complaining that there is already a newer version installed.
But I wonder, if there is already a newer version, why don't the browser plugin work?
Feeling a bit frustrated, I uninstalled Apple Quicktime and installed an alternative instead – QT Lite 3.2.2.
QT Lite 3.2.2 is a lot more lightweight in terms of the download and installation file size.
Once installed, I restarted the browser, loaded the webcast again and walla! It works now!
Hopefully this short post helps any of you looking for an alternative Quicktime player for viewing .MOV online on the web.