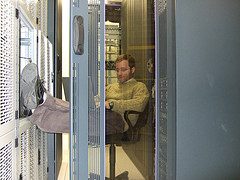 The other day a client asked me if there is such technology which allows multiple operating systems to run on a host computer at the same time.
I thought for a while and told him that he could use virtualization software like VMware Server or Microsoft Virtual PC. It's really simple to install on top of an existing operating system. Image by rfc1036
Then he told me that he has limited OS licenses and would rather not use one license just to host a few other OSes.
I went home, did some research and found out about this technology called Hypervisor Type 1 (or native, bare metal) which basically allows virtual machines to run directly on the hardware instead of on top of another operating system.
I told him what I found out and he asked for some software suggestions. There are a few out there in the market which is free and able to host multiple virtual machines such as Microsoft Hyper-V Server 2008 and VMWare ESXi.
However, I will recommend to him an alternative to Microsoft Hyper-V Server 2008 and VMWare ESXi called Citrix XenServer.

XenServer 5 is based on Xen®, the open source hypervisor that's supported by Intel, AMD, HP and many other organizations to easily deploy advanced virtualization management.
The reason why Citrix XenServer is recommended is because it supports the following key capabilities:
Bare metal hypervisor (64 bit)
Max virtual CPUs of 8
Allows windows and linux guests
Centralized multi server management
Resilient distributed management architecture
Live motion
Shared VM template library
Centralized configuration management
Virtual infrastructure patch management
Intelligent initial VM placement
Intelligent server maintenance mode
Fine-grained CPU resource controls
Hot-swappable disks and NICs
I believe Hypervisor will be adopted more in the future as it helps to cut down on the costs to purchase hardwares as well as the opex required to maintain multiple servers. Now you can just hire one or two server administrators with some hypervisor knowledge to maintain the datacenter. Download XenServer 5 free today!