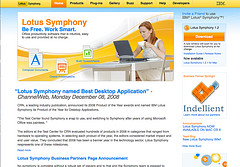 Many times, when organizations do not have the budget to invest in Microsoft Office, they would go for an open source alternative such as OpenOffice.
However, some users said they still preferred Microsoft Office after trying out OpenOffice for a couple of days.
Since cost was an issue, they asked if there are any other office productivity software besides OpenOffice which is free to use.
Well, if you ask me, I'll say YES! It's called Lotus Symphony by IBM. Image by cote.
A free office productivity software by IBM? Really? Are you sure? Yes it's true.
Lotus Symphony by IBM is a business productivity software that is intuitive and easy to use. Best of all, you can download and use it at no cost.
With Lotus Symphony, you have a:
Document Editor
Spreadsheet Editor
Presentation Editor
Application Integrator
And it can be installed on the following OSes:
Windows XP
Windows Vista
Linux SLED 10
RHEL5
Ubuntu 8.04
Mac OS X
A strong feature of Lotus Symphony is its support for industry standard OpenDocument Format (ODF). This ensures that documents created via Lotus Symphony can be supported now and in the future as well. Besides that, it  also supports interoperability with Microsoft Office file formats as well as most Lotus Suite applications. It even allows you to export to PDF directly without having to install any 3rd party components.
From the Lotus Symphony's website, you can view the gallery link to download new cliparts, plugins, templates, etc. Whenever you need any help, the community will be there for you to ask questions, share and collaborate with other users.
So for those of you out there who can't afford Microsoft Office, don't really like OpenOffice, remember to check out Lotus Symphony. Enjoy!