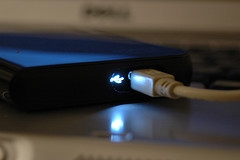 Is your notebook, pc or external usb hard disk shared by others at home or at work?
If yes, then your important files and folders may be at risk of being tampered with or worst, being accessed without your permission. Photo by Török Gábor (nyuhuhuu)
The following scenarios could happen to you:
Colleagues having access to your files containing company details that only you and your boss should know.
Your 8 year old son going through your most intimate files. You know what I mean 🙂
Your OS is not password protected and all the files in your stolen notebook can be easily accessed by the thief
Your laptop had some problems and you brought it to a shop for repairs. Imagine what happens when all your images are being copied and distributed to the whole world, just like it happened to a HK movie star.
I'm sure you do install some security system for your home and your car, the same is possible for your important files and folders. 
And to do that, all you need is this neat little application called Folder Castle.

Folder Castle protects your digital data from thieves and snoopers. It provides two levels of protection: you can lock away files and folders, or you can put them into a secure container called Secure Storage with on-the-fly AES-256 encryption. Secure Storage works in much the same way as an ordinary drive: you can mount or unmount it, defrag, or check for errors.
Since I do have some personal files which I want to hide, I downloaded Folder Castle and installed it to give it a try.
When the inxstallation was launched, the first thing that is required is a password. This password will be used by Folder Castle everytime you want to hide a folder or a file. So it's best for you to put a password that you can remember and if possible try not to give your password something easy for the thieves to hack through such as password or 123!
Once installed, simply launch Folder Castle Control Center from the Start Menu.
You will be prompted for a password! Once you enter the correct password, you will be allowed access.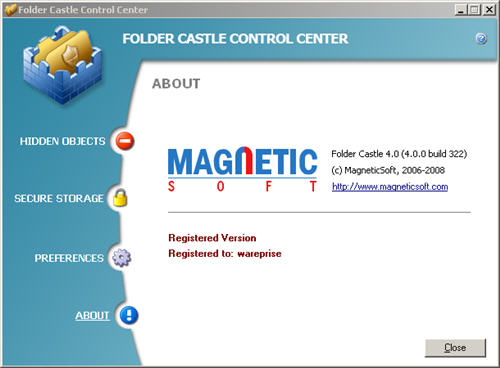 Now's the time to put Folder Castle to test!
I have a folder called Test Folder and it contains some of my personal folders as you can see below.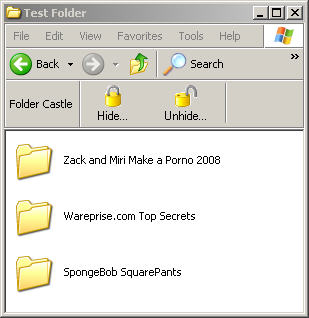 Notice that Folder Castle has embedded an additional toolbar on your folder so you can easily hide and unhide files.
Now to hide my folders, I just simply selected the folders that I want hidden and clicked on the Hide button. Once clicked, I was prompted for my password and upon entering it, WALLA! The folders were hidden.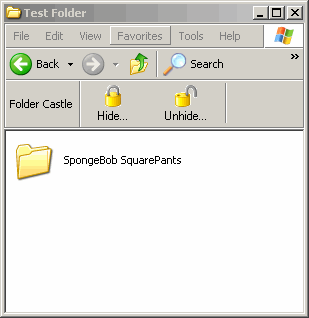 Quite neat, my files are now more secured.
Then i thought, what if I go around my hard disk hiding files and folders here and there. How would I know which files and folders were hidden when I cannot see them.
No worries as Folder Castle's Control Center has a list of all the files and folders which have been hidden
The other neat features of Folder Castle includes:
Compatible with Windows Vista
Easily assign short cut keys to hide and unhide files
Cannot be uninstalled without entering the correct password
Hidden files and folders cannot be accessed even in safe mode or from another network users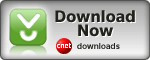 If you would like to hide files and folders as well, download a trial version today! Or for additional information, check out Folder Castle's Website.