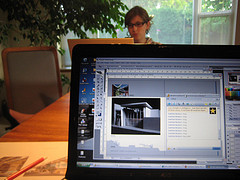 After a long meeting with the Sales Manager, the Managing Director came to the IT department and shouted, "Block websites router".
We were like WTF does that mean? After he cooled down, I gave him a visit to find out that his request was for IT to block certain websites such as Facebook and Youtube from our office's Wifi Internet. It seems the sales people are spending more time surfing the Internet than going out to get more sales.
In your organization, do you realize that some employees look very busy but when you request for a deliverable, there's just none.
When you ask them why do they look so busy then. Their usual reply would be: "I'm doing some extra research on the Internet".
If you're worried that some of your workers may be spending way too much time using the Internet for their personal stuffs, then you might want to consider implementing an Internet usage policy within the office environment.
The problem with a policy, it's just a set of rules for workers. Some may be obedient and never use the office Internet for any of their personal browsing while some might just choose to ignore the policy and just surf their favorite non work related sites even during office hours.
Either way, all organizations that offer Internet usage for their staffs should try their best to block users from accessing sites which are related to:
Adult
Games
Dating
Gambling
Hate / Discrimination
Basically any time spent on any of the above sites is equivalent loss in productivity for the organization.
From the viewpoint of an office worker using the Internet, most would prefer that their Internet usage is not filtered. Meaning, they would have access to every single site there is on the Internet.
But from the perspective of a supervisor or director of the company, if there are reasons to believe that the office Internet should only be used for business and company related purposes, then you might want to consider blocking certain websites from being viewed.
Block websites router with OpenDNS
An easy way to block certain websites would be via the Router, by changing the router DNS settings to point to the DNS provided by OpenDNS

OpenDNS is an Internet navigation and security provider used by millions around the world.
In general, what OpenDNS does for you is it provides you an alternative to using your ISP's DNS servers.
Once you've switched over to OpenDNS's DNS from the router, you can begin to block certain websites from being accessed.
Blocking a website such as Facebook.com is simple. Just add the domain name into your OpenDNS web content filtering page (screenshot below).
You can also apply a web content filtering level based on how much you want to filter.
Select the high level filtering and staffs will be protected against all adult related sites, illegal activity, social networking sites, video sharing sites, and general time wasters.
Block websites router level benefits:
Stats / reporting capability which tells me which domains get accessed the most. If you notice that Facebook.com gets accessed the most especially during working hours, this is an indication to begin blocking the site. This decision should be made if you believe it's not for work related purposes.
Anti-Phishing protects your Internet users from fraudulent phishing scams giving better security.
Faster browsing experience thanks to its SmartCache and Anycast routing technology.
I have been using OpenDNS Basic for more than a week and so far have not experienced any problems. For the protection that it's giving to my Internet users, I'm sure I'll be using OpenDNS as well as recommending it to people whenever necessary.
If you're a parent with kids who just began to use the Internet, OpenDNS Home Security will be a great tool for you to ensure that they don't end up surfing the bad sites.
In case you're wondering if your router has already been configured to OpenDNS's DNS settings, see the image below.

If you see a message which says Use OpenDNS! Get Started. This means that you're not on OpenDNS yet. Otherwise, it should show: You're using OpenDNS! SWEET! Either way, check out OpenDNS.com today.