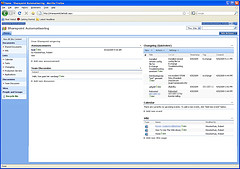 Has your organization decided to adopt ITIL processes to further improve IT Management and Service Management? photo credit: Jemimus
With various ITIL processes to apply and implement, there must be a good software or tool to help organizations apply the ITIL processes with ease and guidelines.
In this post, I'll be attempting to map areas in which Microsoft Office Sharepoint Server 2007 (MOSS 2007) can be utilized to aid in adopting ITIL processes.
Service Support
In service support, the three main processes namely Service Desk, Incident Management and Problem Management are centered around capabilities a of help desk software. When users have a problem or service request, they would call or email the help desk which would then be looked at by the help desk personnel as well as incident managers. With this service support process requirement, is MOSS 2007 capable of accommodating?
Definately! MOSS 2007 is capable of enterprise content management with workflow capabilities. Basically, Issue Logs can be easily created. Help desk personnel can be notified whenever there is a reported incident. With workflow capabilities, an incident can be routed to the next level if it isn't solved by certain levels. Although MOSS 2007 has standard capability to create issue logs and tasks, to integrate it with some workflow would require some codes to be written.
As for Configuration Management, MOSS 2007 is capable of storing tons of information without needing a DBA to create tables or writing SQL queries. An end user with the appropriate rights can create documents, records, web content and forms easily. For sure, lots of configuration items can be stored securely in within MOSS.
Service Delivery
One key process within Service Delivery is Service Level Management. It is essential to be able to manage well the various aspects of services an organization offers to their clients. Most of the time, when we ask an IT department about the services offered by them, the answers provided can be vague and inconsistent. Thus it's important to have a service catalog in place.
With MOSS 2007's collaboration and content management features, it will be simple to publish the service catalog as well as its service level agreements on the portal. New and existing users / clients can easily view these information to proceed with any request of services.
Conclusion
Although MOSS 2007 may not be able to to cater for all ITIL processes such as Availability Management or Service Continuity Management, it is capable of doing a good job when it comes to collaboration and content management features. Workflow and search capabilities are also plus points. Check out MOSS 2007 and see how it is able to help your organization implement ITIL processes.