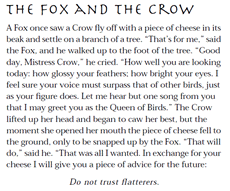 Today's post will highlight a method for you to easily convert a picture or image into text. Please note that your picture or image has to contain some text which was either scanned or screen captured.
An example can be seen on the left of this post. Click on it to view a bigger image.
In order to convert and extract the text from the image / picture, we can use an example online application as provided by GoogleCodeSamples.com. This app is also known as the DocList API OCR Demo.
The fact that Google is able to provide OCR capabilities really helps those who aren't ready to invest in costly commercial OCR / scanning solutions yet. For those who have cabinets of files which need to be scanned and ocr'ed for archival purposes, an end to end commercial document archiving solution may be necessary. But if all you need is to extract text from a two page picture / screenshot, then this online tool will help.
To give this conversion a try, simply head on over to DocList API OCR Demo (I would call it the Google Docs OCR program).
Once there you should see a link for you to log into your Google Docs account. So yes, in order to use this service, you would need to have a Google Docs account.
Upon sucessfully signing in, the site googlecodesamples.com would request access to your Google Account. Simply click on Grant Access to continue.
If everything is in order, you should be able to see the screenshot below: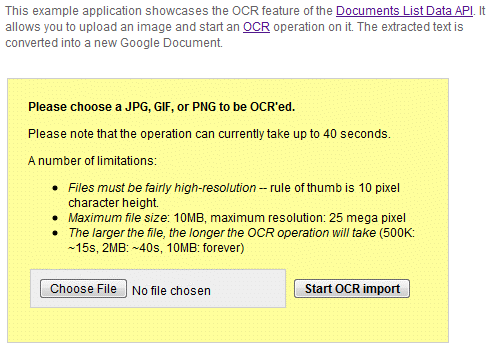 As stated, you can upload a picture / image in any of the following formats:
And the maximum allowed file size is 10MB.
I gave this Google OCR a test by uploading The Fox and the Crow image above.
Then I clicked on the start OCR import and in less than 10 seconds, this is what I got.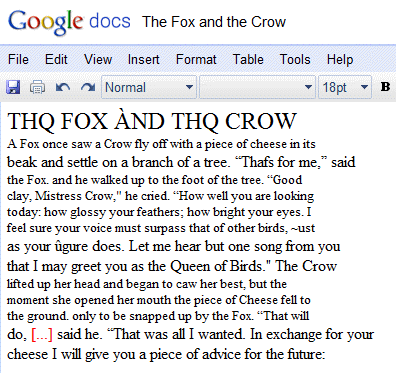 The extracted text was converted into a new Google Document and it looks like it got at least 80% of the extraction done right. Not bad at all, I would say. Beats retyping any time.
Overall, I find this Google Docs OCR to be reliable as it get's the job done for me. Although we can't treat it as an alternative to those costly scan and OCR solutions but if you need to extract a few pages of text from a picture or image, this online tool would definitely do the trick.
Hope it helps, and happy converting your pictures to text with the free Google Docs OCR.