Recently a friend ask me if there is a way that he could host a Joomla CMS web application without having to purchase a new server.
He needed to run the open source CMS on a trial run just to get feedback from users before purchasing and setting up on a real production server.
I asked him if he has any existing servers in his office which isn't loaded heavily with other apps.
He has a file server which acts as a file repository for everyone in office.
So I told him that he could consider installing a virtual machine software such as VMWare Player or VirtualBox on the file server and run a virtual appliance containing the LAMP stack so he could install Joomla CMS in it.
He then asked me for more info on how virtual machines works and what's the cost associated to running a virtual appliance? It's FREE, I said.
In fact he can just download the entire virtual appliance with everything already installed such as:
Ubuntu operating system
Apache web server
MySQL database
PHP language
Joomla CMS version 1.6.x
Wow! That's great he said. Now where's the download link?
Simply head on over to Jumpbox!

A JumpBox is a "ready-to-use" virtual machine appliance which is pre-built by the professionals for users to benefit from right away.
At the moment, the following JumpBoxes with the following apps pre-installed can be downloaded for free:
Joomla! Content Management System Version 1.6.x
MoinMoin Wiki Software
Drupal 5.x Content Management System
PmWiki Wiki Software
TikiWiki CMS/Groupware
Tomcat Java Web Application Deployment
Elgg Social Networking Platform
PunBB Discussion Forums Software
Ruby on Rails Deployment
Movable Type Blogging Platform
Silverstripe Content Management System
SugarCRM 4.5.x CRM System
PostgreSQL Relational Database Management System
Tracks Task Management
LAMP Deployment
LAPP Deployment
MySQL Relational Database
Nagios 2.x Network Monitoring System
Gallery Photo Management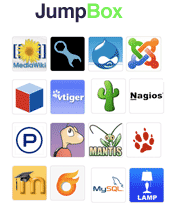 Note that these virtual appliances can run on VMWare, Parallels, VirtualBox, and Amazon EC2 Cloud Computing.
There are many benefits provided by Jumpbox which includes:
No need to purchase additional hardware.
More than fifty different applications to choose from.
No need to set up the entire stack environment from scratch.
Updates and patches are take care of via the Jumpbox migration mechanism.
Jumpboxes can be deployed in the cloud via Amazon EC2 or JumpboxHosting.com
Without utilizing Jumpbox we're talking about quite a huge effort in setting one up.
From installing the operating system all the way to setting up and configuring the right platform stack just to run and test one web app. Way too time consuming!
Jumpbox is the way to go for IT professionals who are always looking for ways to save time and get to the point. Check out Jumpbox today!