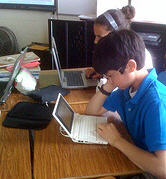 If you're already a full time working adult, this post may not be directly relevant to you. But I'm sure your younger friends and family member who are still in school will benefit greatly from this program which I'm about to mention.
For many students, they are most creative during their schooling years. Well known people like Bill Gates and Michael Dell started their companies during their college days and went on to be really successful. Image by usm photos
To tap on the creativity of these bright young students, Microsoft introduced a program called Microsoft Dreamspark which allows students from a verified, accredited school to download professional Microsoft developer, designer and gaming software for free. Yes, legal and no charges required from you students.
The following Microsoft software are available through Dreamspark:
Microsoft SQL Server 2008 Developer Edition
Microsoft Visual Studio 2005 Professional Edition
Microsoft Visual Studio 2008 Professional Edition
Microsoft Expression Studio 1.0
Microsoft Expression Studio 2 Trial Edition (includes Web, Blend, Media, and Design)
Microsoft Windows Server 2003 R2 Standard Edition
Microsoft Windows Server 2008 Standard Edition
IT Academy Student Pass

If you're wondering what's the catch about Microsoft allowing students to use their software for free. Well, technically there's no catch. You really get to use it without any obligations what so ever. But if you think about using these software from a bigger picture. Just imagine that if every student in the world has been exposed to Microsoft tools by the time they enter into their first job, this would give the job market a big supply of Microsoft capabled employees. The way I see this, it's a win win situation for both the student as well as for Microsoft.
So for you students out there, do take full advantage of this Microsoft Dreamspark program while it's still available. Instead of watching the tv or playing video games, why not try out one of these software and build yourself an application.
If you don't know where to start, I would suggest for you to set up a Windows Sharepoint Services to check out the features a bit. To do that, simply download Windows Server 2003 and SQL Server 2008 Express Edition. Once these two are installed, download WSS 3.0 and you should be ready to check out Sharepoint. Who knows, you might be required to use Sharepoint extensively when you start work in your first organization. Will definitely give you an edge if you carry the right skills with you.
Do give it shot, check out Microsoft Dreamspark for more info on how to signup, register and begin to download and use the software today.
See what univ phoenix can do to your career. Learn more about the different mba programs offered online.