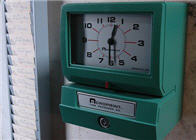 Is your organization still using the old time clock to track employee's attendance?
If yes, then you must have realized that there are numerous loop holes with the system. 
Some disadvantages of using the old punch clock are:
People can punch the card on behalf of someone else which creates early punch ins as well as late overtime hours (buddy punching)
Manual time calculations
Possibility for dispute to arise
Punch cards could be easily tampered / sabotaged
Punch clocks have been used by many organizations to assist in tracking the number of hours an employee of a company worked. 
Did you know that the first time clock was invented way back in 1888?  Which means It has been used for more than a hundred years! If it's still being used today, it must be a real proven system.
These days, with the help of new technology, the disadvantages mentioned above can be eliminated. With biometric time clocks, a person's biological attribute such as the finger print or retina, can be used to correctly identify the employee. This would mean that the buddy punching problem can be eliminated. Unless the buddy's thumb or eyeball can be detached! 🙂
For organizations planning to migrate from old time clock to new new biometric clock, you can consider implementing this free biometric time and attendance software.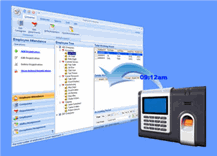 Introducing PayPunch – a Biometric Time Clock & Attendance tracking system that replaces the typical time clock used to track employees attendance.
Instead of employees punching a time-card, they simply insert their hand or a finger into the reader and enter their employee number.
To test out PayPunch, simply download PayPunch Lite – the free version which allows up to a maximum of 25 active employees at any given time. 
In order for PayPunch to work, you will need a biometric device. There are various types of biometric devices which can be installed namely:
Hand Punch Devices – scans for the hand for the shape and size of the employee
Finger Print Devices – scans the fingerprint of the employee
Proximity Card Reader (RFID) – not really a biometric device but can also be used to integrate with PayPunch
With various biometric devices to choose from, your organization has to decide on one based on cost, feasibility, and ease of use. Also, remember to get a vendor which is reputable and experienced in installing the biometric device for you.
Once the biometric device is installed, you can integrate it with the PayPunch software. Some key features of PayPunch includes:
Daily and weekly statistics and reports
Manual adjustments (by Authorized Personnel only)
Shifts schedule support
Attendance exceptions tracking
Multi-factories support
Multi-devices support
Vacation tracking
Paid-holidays tracking
Multi-level password protection
Employees Records Locking to prevent unintended data overwrites
Flexible configuration of the rounding rules and grace periods
Attendance data export to Payroll software
Employee picture capturing from the video device or file
Fully customizable to accommodate different business rules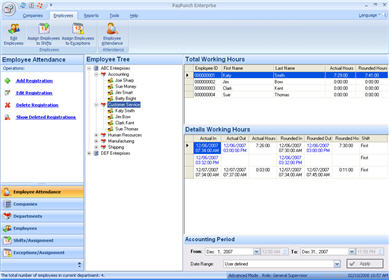 Check out PayPunch and give it a try today!