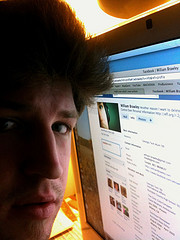 Recently a friend asked if I know of any software which can be used to secure and anonymize his web surfing activities.
He has reasons to believe that his surfing and browsing activities could potentially be spied on by others without his knowledge.
Technically speaking whenever we browse a website through an Internet service provider (ISP), there is a mechanism for the ISP to track what websites you have visited, if they want to.
Our activities on the web isn't anonymous because an ISP can track the IP address which ties to our Internet account.
The ISP also have the power to block certain websites. This is why we sometimes hear people complaining that they can't connect to certain sites when they are connected to a specific ISP.
Basically, our access to the Internet may not be as secure as we think it is.
If you want to remain anonymous while using the Internet, today I'll be recommending a free Internet privacy software called SimonTools CyberGhost VPN for a more secure and anonymous web surfing experience.

CyberGhost VPN is a free internet privacy software (Windows desktop application) which conceals your real IP address and protect your data transmission from eavesdroppers.
Below is an image on how the software generally works.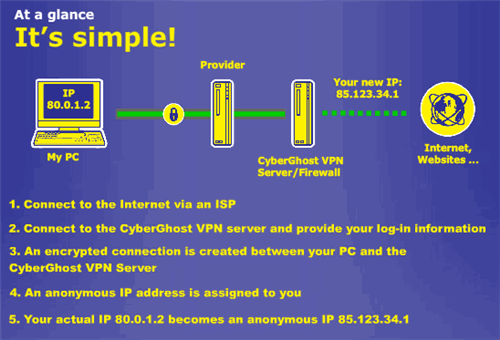 View its animation here.
Basically what the software does for you is it connects you to a CyberGhost VPN Server/ Firewall which is based in Germany.
Once you're connected to the server, you will be assigned a new anonymous IP address. With this new IP address, whenever you visit a website, the website will log the visit from the new IP address.
I gave this application a try myself and this is how it went.
I started off by downloading the free basic version.

Once downloaded, I installed it.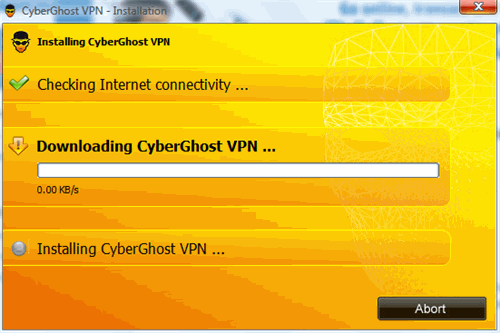 Once installed, the next thing to do is to create a free CyberGhost account.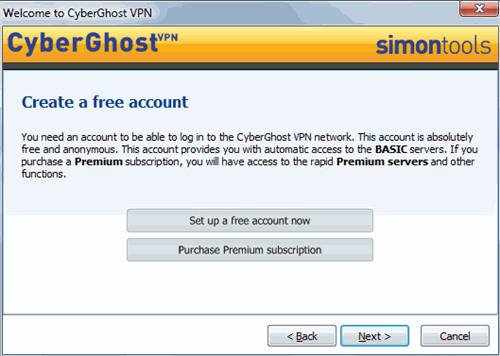 For more details on the differences between free basic servers and premium servers, checkout CyberGhost VPN Plans.
Launching CyberGhost VPN for the first time on my machine, this is what I saw.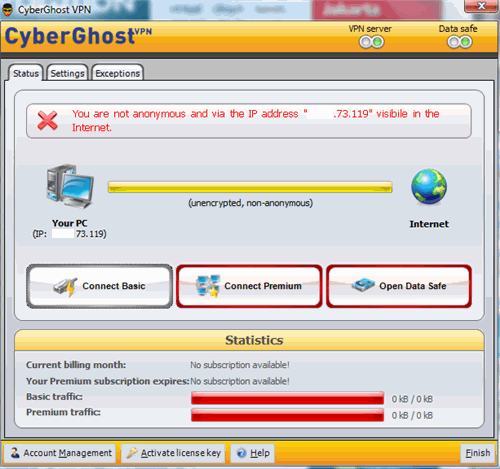 CyberGhost is telling me that I'm currently not anonymous on the Internet.
So to get things moving, I clicked on the Connect Basic button and after a few minutes the connection was successful.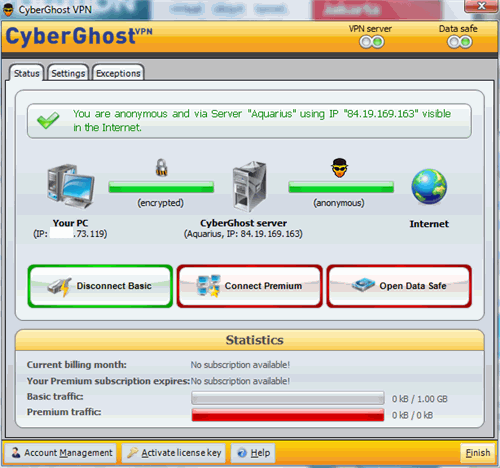 The app states that I'm now anonymous via the IP 84.19.169.163.
I immediately launched Google Chrome and went on to IP-Address.com to check what's my current IP and indeed I'm on that IP.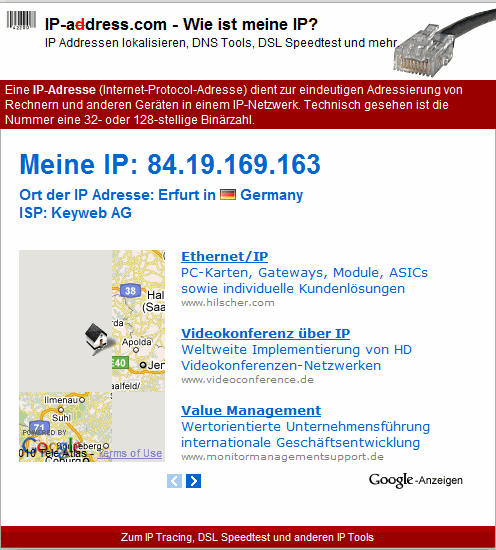 This software definitely works for me.
It is also stated that once connected to CyberGhost VPN servers, you can get up to 30% faster site access than using your ISP alone due to the server's compression technology. It did felt faster for me as well.
This method is also useful if our ISP is having trouble connecting to certain parts of the world. For example, recently my ISP had trouble connecting to sites based in the US because of a faulty underwater cable. Since connecting to Europe is ok, I could use this method to surf US sites much quicker while they work on the problem.
In case you're wondering if it works for torrents, I gave it a try and it works. But it did not show a significant improvement on download speed.
Another use case is to be able to surf a site as if you're from Germany. So for people searching for "How to surf a site as if you're from Germany" I hope you reach this page as this is the solution for you.
It looks like CyberGhost can also be used to bypass blocked sites which are either restricted by the ISP or your office router. This will only work if the service providers did not block the IP addresses of CyberGhost servers in the first place. 🙂
Before you dive in to download and use the app, one thing which I would like to highlight is this FAQ #20 about the data that we're leaving on CyberGhost VPN server. Please read it and be aware of the fact.
For secure web surfing, give CyberGhost VPN, the free internet privacy software a try today!