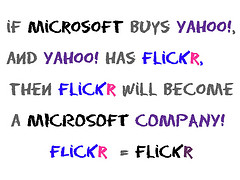 The other day, a friend of mine told me about his intention to acquire an IT web design and development company which provides mainly multimedia, web design and programming services.
The reason why he wanted to acquire the company is to complement his existing business as he feel's that an IT arm within his group of companies would help automate some of his business processes as well as to assist the marketing team develop a new brand for their existing products and services.
So he asked me what are the various aspects in within an IT organization which he should assess prior to acquiring the IT company. He is particularly worried about acquiring an organization which has:
Internal problems
Many old and unusable IT equipments
Not been renewing their maintenance contracts
I told him that he needs to conduct due diligence on the IT organization in order to further investigate the organization's IT environment, processes and staffs.
He could either hire an external consultant to help with the IT due diligence process or conduct one himself, with the help of his internal IT team.
What are some key questions that he should try to find out in order to help him make a decision on whether to acquire the company?
Here are three key requests he should check and confirm with the IT company:
Who are their existing clients
How many projects are ongoing or completed and what are the statuses of each project
An organization chart together with a list of all their IT staffs which include their title, salary, responsibilities, work duration
For a complete IT Due diligence Request List containing twenty (20) key questions to find out from the IT organization which he is about to acquire, the following are some steps I told him on how he can get one FOR FREE.
Head on over to MDE Enterprises website
On the right side of the page there is a FREE eBook & Tools, click on that
Simply sign up for the free newsletter and download the free tools which includes the IT Due Diligence Request List.
I'm not sure how long this IT Due Diligence Request List will be made available for free. Hopefully by the time you get there it's still available. Hope it helps!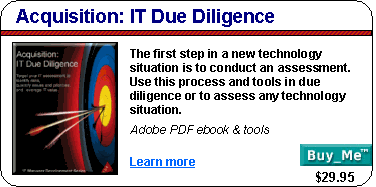 Also, you can also check out MDE's Acquisition: IT Due Diligence eBook for more due diligence related details such as the objectives, process, key risks, assessments questionnaires, data collection templates, due diligence reports, etc.