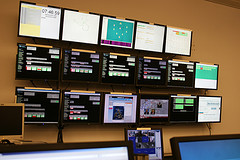 Do you know how much bandwith is being used within your network?
What about the performance of your application servers?
Are servers running at high CPU utilization all the time?
If your organization has a network of servers in place,  these are some questions that your network guy should be able to answer without any problems. Photo by Docklandsboy.
If he / she goes … huh? How would I know? Then probably the network may not be monitored in any way and thus your organization risk the following:
The performance of applications could be affected if servers are running out of server resources
There may be a bottleneck bandwith which is difficult to detect
Automatic failover systems cannot be deployed
Worry about your network not being monitored? Do read this post on how to choose and effective network monitoring software (NMS) for your organization.
There are many network monitoring tools which your network team can utilize in order to monitor your organization's network and server. The following are some free ones to try:

Spiceworks is a free IT infrastructure management solution which includes network monitoring as one of it's key features.
Besides network monitoring, Spiceworks is used to run an IT help desk, troubleshoot network problems, IT asset management and more.
Read a more comprehensive Spiceworks Review here.

Zenoss Core is an open source solution for monitoring servers, networks, applications and more.
Zenoss open source includes key capabilities such availability monitoring, performance monitoring, event management, log monitoring, all within a built in configuration management database (CMDB).
Organization that implement Zenoss benefit from multiple advantages because it is scalable for the enterprise, it's architecture is open and flexible and best part is the features are all free to use.

Nagios has been around for more than 10 years and has proven to be a powerful monitoring solution to help organizations detect any IT infrastructure problems before its core business gets affected.
Some of it's key features include multi-tenant capabilities, comprehensive monitoring, problem remediation and more.
Over the years, Nagios has won multiple awards and recognition. A notable one is Infoworld's best open source software in year 2009.

ZABBIX is an all in one true open source monitoring solution which is scalable and simple to use.
Some of its key features include auto discovery, real-time monitoring, agentless monitoring and more.
ZABBIX can be installed and configured on multiple platforms such as AIX, Linux, Mac OS X, Solaris and others.

GroundWork Community Edition is an IT monitoring solution that allow network administrators the capability to control and maintain network visibility.
This open source monitoring tools is based on a combination of 15 other open source solutions such as NMAP, RRDTool and Nagios.
Read more about my recent experience setting up GroundWork Open Source Enterprise Quickstart.

OpenQRM is an open source data center management monitoring platform for data centers and also enterprise networks.
It's key feature includes having support for different types of virtualization technologies such as VMWare, KVM, Xen and more.

Ganglia monitoring system is an open source monitoring system for computing systems such as grids and clusters.
It leverages on common technologies such as XDR for compact portable data structure, XML for data representation and more more.

Monitorix is an open source monitoring tool which is lightweight and free.
Organizations deploy Monitorix and use it to monitor multiple services and system resources meant for Unix / Linux servers.

Serio IT Service View is a free, no device limitation tool which alert you of any problems, allows you to monitor servers, automatically take corrective action like rebooting, starting and stopping services within a monitored server.
Serio works well with other plugins such as web application monitoring plugin, generic ping test plugin, SQL exec plugin, Oracle login and more.
———————-End————————-
There you go. A list of free network monitoring tools to monitor your network and servers. Enjoy!