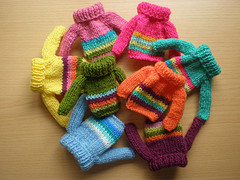 A friend of mine recently decided to quit her job to focus full time on her online e-store selling women's clothing.
Since she frequently deals with various suppliers from different countries such as China and Thailand, she has a tough time trying to track all communications made via email.
Her email threads can usually be quite long and contain key information such as:
Number of orders
Shipping details
Payment details
Pictures of new clothes designs
Discussion on amendments required to a design
Sometimes when dispute arises, she needs to search through each email thread to look through what was ordered and when it was paid, etc.
To add to the confusion, she has two other working partners who from time to time, would ask her to retrieve some information which are residing in her email account, which she finds quite annoying but unavoidable since all the communication threads belong to her.
She came to me asking for a better way for her to collaborate with her suppliers, co-workers, and customers so that there is a central place for discussions and information to be stored.
She indicated that she wanted something quite similar to Sharepoint where she could easily upload pictures, add information, assign tasks, all in central location, but minus the costs and complexity of setting the system up.
Obviously she came from a corporate environment and got used to the benefits of using enterprise software or a product help wiki software 🙂
Now that she's on her own, she has to consider all the various aspects of using and implementing an IT tool, such as costs, technical maintenance and ease of use since it involves her customers and suppliers who may not have prior training using the particular tool.
Without researching any further, Huddle a web based free online collaboration workspace came to my mind and immediately I recommended for her to check it out.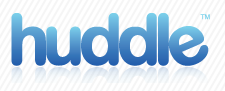 Huddle is a secure online space for people to share, connect and work together effectively.
This web based application is hosted by Huddle so users need not download and install anything. All that's needed is a browser to begin collaborating online.
There are various packages to choose from depending on your user requirements. What I really like is the free trial (with some limitations) offered by Huddle to allow individuals from small businesses to utilize and try out their tools and features before having to pay for any upfront payment.
I myself signed up for a free account just to try out its features and ease of use.
Upon logging in, I see that a workspace has been created for me.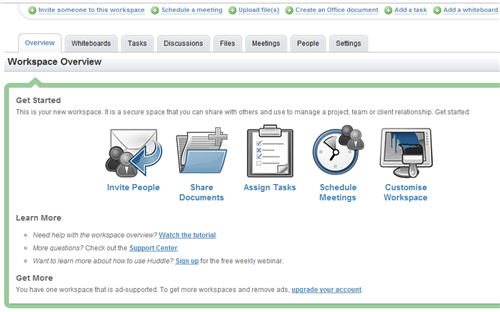 You'll be greeted with some simple introduction to each feature so that you can get started and begin using the app right away.
These are some key functions within a workspace:
Schedule meetings (web conferencing is available for paid plans)
Assign tasks to people (a centralized task management capability)
Create whiteboards (it's just like a Wiki for people to update information)
Upload and share documents (word documents, pictures, bills can be uploaded)
Invite people to join your workspace (could be customers, suppliers, co-workers)
Discussion (it's good to use discussions rather than email for easier message tracking
Although there are similar types of SaaS web based apps out there such as Google Apps and Zoho, one thing that caught my attention about Huddle has to be its vast number of users from various industries. Check out Huddle's case studies on various business solutions.
If your business is still depending heavily on emails as the main form of business collaboration and data storage, do check out Huddle for a better way to collaborate online.