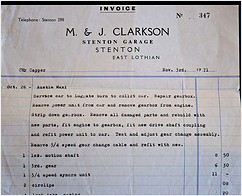 Recently a friend of mine asked if I know of any online invoicing tool that he could use for free. photo credit: PhillipC
His client which is based in another country suggested that he send over e-Invoices rather than faxing or snail mailing invoices which requires more time to process and is also less environmentally friendly.
In the past I reviewed two free online invoicing tools – BambooInvoice and BillingBoss.
BambooInvoice is an open source invoicing software which allows codes to be added and edited to further enhance it's features and functionalities.
BillingBoss is an on demand web based invoicing tool where you just need to sign up for free and begin sending e-Invoices and tracking it's payment, etc.
Since BillingBoss is a free web based tool, I suggested my friend to check it out.
Later on, when I met him again, he told me that he's using TradeShift instead of BillingBoss.
This prompted me to try out Tradeshift – a free online invoicing tool with social networking features.
Tradeshift is not just a simple online invoicing tool but one that also incorporates social networking features.
Since social networking has become quite an in thing lately, Tradeshift makes it easy for your organization to connect and communicate with customers and suppliers within the Tradeshift platform.
Let's say you're having a warehouse sale next Sunday, simply add a message or two about your event and everyone who is within your group of connections will see your message. (It's just like a tweet!)

Creating an invoice is just as simple as sending out a message.
You'll firstly need to add a connection (customer / supplier) if he or she is not already part of your network.
Or you could also add a connection the manual way.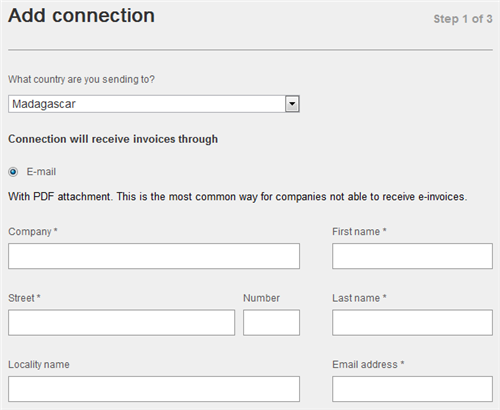 After adding the connection's info, the next step is to add the details for the e-Invoice.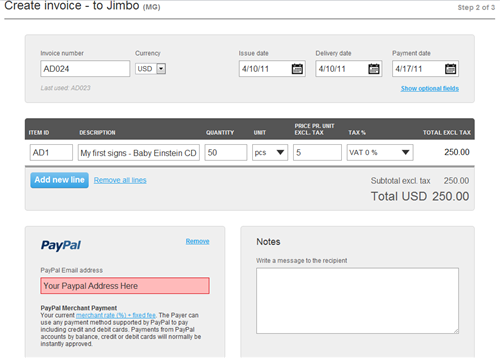 When creating an invoice, most of the standard features will be provided such as the ability to specify:
Invoice number
Currency for payment
Payment due date
Line items
Additional notes
Paypal address
Adding line items will automatically sum up the total where you can also include tax % which eases overall calculations.
Once an invoice has been fully created and sent, the recipient will receive an email with a PDF version of the invoice attached.
The feature that I like most about Tradeshift has to be it's Paypal integration whereby your clients can easily pay you via Paypal.
Most other web based invoicing tools do provide Paypal payment option as well, but Tradeshift went further by providing notifications when a payment has been successfully made. I believe that Tradeshift did put in an additional integration step to tie the payment notification feature back to the invoicing platform.
For users, this is a real time saver as you do not need to manually update the payment status upon getting notifications about a successful payment from Paypal.
Payment updates will be shown on the home dashboard so you will be able to see a thread of all your recent activity statuses.

Since Tradeshift is free for all to use, I believe that many businesses will be soon be using this platform to send and track invoices.
For more details on how this free online invoicing tool with social networking feature can help your organization better manage e-invoices as well as improve business relations, check out Tradeshift today!