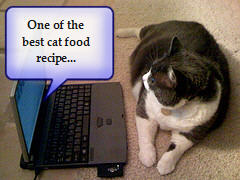 How many hours in a day do spend reading and typing on a computer? Image by Chika.
I spend at least 8 hour a day in front of a computer either reading sites, writing, programming, emailing or watching YouTube videos. All these daily computing is really straining my eyes to the limit. I'm actually quite surprised that until now, I don't really need a pair of glasses yet. I hope I can stay glass free for a long long time, just like our cat friend above. 🙂
Sometimes, when my mom sees my eyes are reddish and look puffy, she would tell me to take a rest away from the computer. I would then tell her, "Nope, I can't! I need to finish proofreading this 10 pages long proposal document that we've prepared".
Then she would ask, is there a software that would read out the proposal to you while you look out to the trees and birds flying?
What a great idea! After spending days typing the proposal into the computer, now, we get the computer to read out to us what we wrote while we sit back and enjoy our coffee. Why not?
Text to speech software can provide the following benefits:
Hearing text read out loud can help us identify errors our tired eyes could miss.
Avoids straining the eyes due to too much reading and typing on the computer.
Helps english students learn english by listening to how certain words are pronounced.
Helps anyone who is visually impaired.
I Googled for Free Text to Speech Software and found out there are many free software that would read out to us the text we wrote. The following are a few:

Text2Speech is a simple, easy to use Text To Speech (TTS) program for Windows. It can easily turn any piece of text typed or loaded into it into text.

Natural Reader 9.0 has functions to read aloud any text in your computer. It's also possible to change the speed and speaker (male / female) to suite your audio preferences.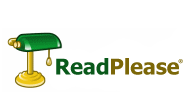 ReadPlease is a software that lets your computer talk as it basically reads any text you see on your screen.

Text2Speech is a free online text to speech convertor. Simply type in your text in the textbox, select a voice followed by downloading and playing the result which is in mp3 format.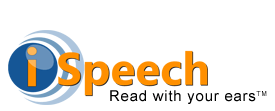 iSPeech is an online / SAAS text to speech tool which allows you to convert any text to speech. The best thing about iSpeech is it's online based, so you need not install anything on your PC. Just need a browser to run. Mac users can definitely benefit from this. Another great feature about iSpeech is it's ability to convert your blog to podcast for you to reach to an even wider audience.
See this video below on iSpeech:
———————————— End —————————————-
So there you go, four free Text to Speech Software to help relieve eyes strain.