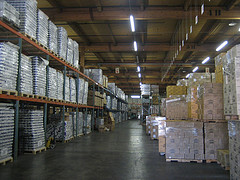 As the CIO or IT Manager within a warehouse, is technology currently being utilized to automate processes within the warehouse?
A warehouse typically has a combination of materials and stocks stored in it. Managing the movement of all the materials within a warehouse can be very challenging. If done well, processes can be streamlined and productivity can be enhanced. But if not, a warehouse's stock and supplies could go missing, get misplaced or even sabotaged.
A solution would be to implement a warehouse management system (WMS) whereby the key aim is to control the movement and storage of materials within the warehouse.  WMS can also help to process transactions, shippings, material location, receivings and others. Photo by goldberg
The typical warehouse management system includes a variety of technology such as:
RFID scanners
RFID tags
Barcode scanners
Mobile computers
Long range wireless devices
High end servers to store (application, database, files)
If your key skills and experience lies in within the warehouse such as managing the processes and staffs, you can rely on third party vendors to help implement a WMS for your warehouse.
You most likely won't be able to find a software off the shelf as a typical WMS usually requires many man hours to customize based your warehouse's internal processes. The various factors which a WMS vendor will consider includes:
the size of your warehouse
the sort of supplies and material which need to be tagged and tracked
the number of processes which need to be automated
The next big question, how can you choose the right WMS vendor since there are so many of them out there. Who's good, proven and reliable?
One way to find out would be through a request for proposal (RFP) process from ERP or WMS vendors within your location. Two options moving forward:
Create your own warehouse management RFP
Request for a free warehouse management RFP
Begin automating your warehouse today!
* Updated 5 March 2009 – Another good resource to look out for: How to choose a warehouse management system
For affordable document templates such as (RFP, SOP, Business Plans, Training Plan, Employee Handbook) check out MySoftwareTemplates.com