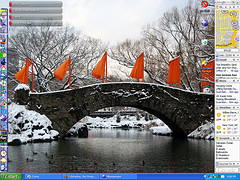 How neat and organized is your computer desktop? Image by AndrewVDill.
For mine, I realized that my desktop is usually very messy and filled up with lots of files and folders whenever I'm really busy with my work.
When things start to slow down a bit, I would have the time to manage my desktop thus making it cleaner and more organized. Searching for files also become easier.
I believe that a messy desktop with lots of files and folders, if seen by a potential customer can give a not so good impression of how we organize and manage our work.
There were a few times when I had to make a presentation with my desktop projected on the large screen. Prior to hooking up the projector, I quickly copied everything on my desktop into a folder called desktop 2 so that the desktop looks cleaner. And after the presentation I had to bring everything out onto the desktop again. Troublesome…
If only there is a way for me to get more desktop space by switching my desktop according to the following purposes:
Desktop for emailing purposes
Desktop for presentation purposes
Desktop for programming purposes
Desktop for web, movies and music browsing
If in the past, in order to have more desktop space, we might need to invest on additional monitors and graphic cards.
Today, we can utilize software based virtual desktops to have additional desktop space to fulfill the above purposes.
Here is the list in summary together with some that I added on:
For Windows
For Linux
For Mac
—————————- End ——————————-
Also check out my previous post on how to quickly switch and hide your desktop from your boss. To achieve this, a virtual desktop manager is utilized.
If you know of any other good virtual desktop managers to organize our desktop better and get more desktop space, please comment below. Thanks.