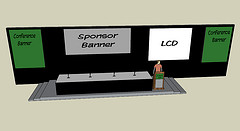 The other day I wrote a post about cheaper alternatives to AutoCad and SolidWorks. Recently, I stumbled on another 3D modelling software but this time, it's free and best of all, a software by Google by the name of Google SketchUp. See a sample of an image created using the free software by Mrs. Gemstone on the left.
Without hesitating, I downloaded the software and gave it a try and it's indeed a free 3D modeling software which is really simple to use. There are many 3D modeling features in within Google SkechUp which are comparable to those available in the market such as 3D Studio Max and Blender.
Check out this neat video about Google SketchUp and how easily this guy built himself a dvd rack by utilizing the free software.
I found out that people in general use Google SketchUp to construct 3D models such as:
Buildings
Furnitures
Cars
Trees
Office Layout
Gadgets
Outdoor Landscapes, etc
While many other 3D softwares out there in the market require you to buy books or even enroll for a class to learn about the software, Google SketchUp provides many tutorials on how to use the software for free. Just head over to this Google SketchUp Tutorial Link from YouTube and you'll see nearly a thousand videos to learn from.
I know I'll be using this software to help me design my home office when I get my new home later on. What about you? Head on over to http://sketchup.google.com to download the software today. Thank you Google!