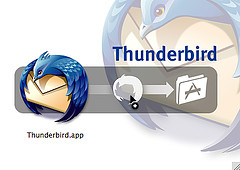 Mozilla recently released a new version of its free email messaging desktop application – Thunderbird 3. Image by corra24 – Half Man/Half Marathon.
The desktop application for all my emailing purposes have always been Microsoft Outlook for the past 10 years. I haven't tried any other messaging applications and really got used to Outlook.
But I guess it's time to venture out to see if there are alternatives which allows my daily email communications to be fast, flexible and secure.
I really can't comment on whether Thunderbird is indeed more secure than Outlook, but based on what I read about France's military contributing code to Thunderbird, it's good enough to persuade me to try the new Thunderbird 3.
I started off by downloading Thunderbird 3.

It's a 6.4 MB download and the installation took less than 5 minutes to complete. I could already feel how light weight it is.
Once installed, the first thing I did was to remove my email accounts from Outlook to stop it from further downloading any of my emails.
In Thunderbird, I set up the mail accounts and found the process simple and straight forward. Although I could just import the mail account settings, I decided to give the manual method a test just to see if I had any problems with it.
Next was to import all emails from Outlook over to Thunderbird. To do that, just click on Tools > Import in Thunderbird.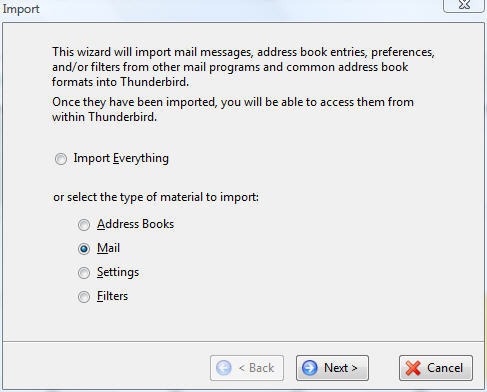 See how Thunderbird allows us to import everything or to select the type of materials to import.
I chose to only import Mail, clicking Next allowed me to select which of the following to import from
Communicator 4.x
Eudora
Outlook
Outlook Express
I selected Outlook and expected it to ask for the location of my .pst file. However it did not and just automatically imported everything. It's intelligent enough to go into Outlook to get every single email from there into Thunderbird. This capability is very handy for those who don't like dealing with technical setting. If your objective is to just transfer all emails over without asking too many questions, Thunderbird did exactly that.
Overall, I find Thunderbird user-friendly and simple to use. These are some features which I find really cool:
Thunderbird Tabs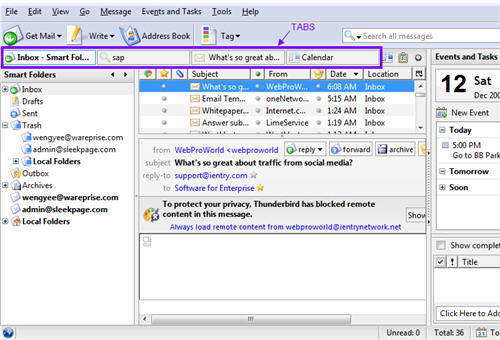 See how there are four tabs right at the top just like our browsers. The tabs above are:
Inbox – Smart Folders
A tab containing search results for my SAP related emails
An email message
Calendar view (Lighting Add-On)
The tabs allow me to easily switch between the various functionalities of Thunderbird rather than allowing just a single view of a particular function.
Did you know that even Google Wave can be running in one of these tabs. Check out Lifehacker's post on how to run Google Wave Inside Thunderbird.
Thunderbird Add-Ons
Imagine if Thunderbird is a plain vanilla ice-cream. The add-ons are basically the toppings which you can add-on top of the ice cream. It could be oreos, chocolate fudge, smarties, or even strawberries. Thunderbird Add Ons allow you to add more email related functionalities.
The first Add On that I installed was Lighting, a function similar to Outlook's calendar and task management.
There are many other cool Add-Ons for Thunderbird. The only problem with these add-ons is that most are still not compatible with Thunderbird 3. You'll just need to test and try to see which one works. Or just wait till the Add-ons get updated.
Thunderbird Themes
See how I changed the default Thunderbird Theme to the Mostly Crystal Theme.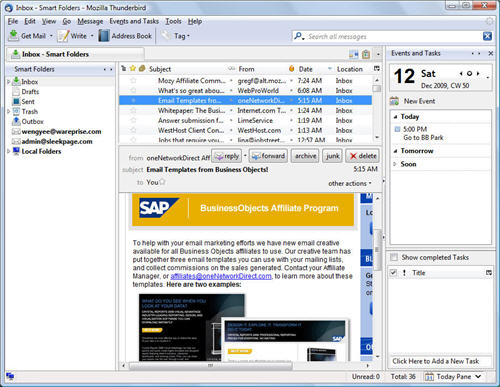 to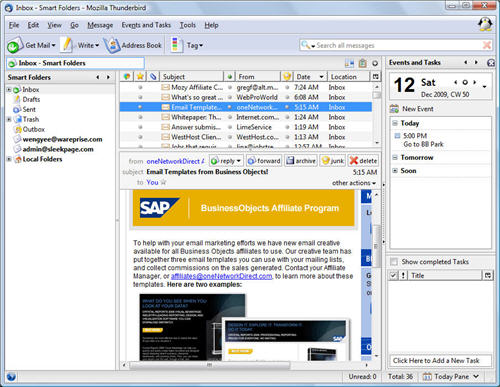 Notice how the images and icons were changed. Though it's not a drastic change but it just shows how easily we can change the look and feel of the application we use most of the time.
————————————— End ————————————————–
At the moment, I'm planning to keep Outlook installed on my machine for another week or so, just in case anything unforeseen happens to Thunderbird.
Comparing Outlook and Thunderbird, the features and functionalities are almost the same. However, both these applications serve different types of users altogether.
If you're in an organization which has most Microsoft Server products deployed (i.e. Exchange, Active Directory and SharePoint), it's best to keep Outlook in your machine as it integrates well the server applications.
Thunderbird on the other hand, is great for email users who require little integration with Microsoft products and require the flexibility to add in additional features and capabilities which Outlook may not be able to accommodate.
What do you think about today's post? Are you currently using Outlook or Thunderbird? Feel free to share with us your experience using either of these email desktop applications.
Hope you like my simple review on how I switched from Outlook to Thunderbird 3.