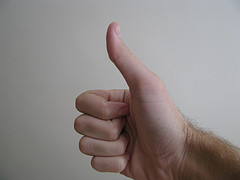 How many of you currently use Google Docs free service? Thumbs up! Photo by TheTruthAbout.
Google Docs is a free office productivity application which is hosted by Google itself. All you need to do in order to use Google Docs is to sign up for a free account and begin to create and collaborate on word documents, spreadsheets and even slides for presentation purposes.
The best capability of Google Docs is its simplicity to share documents and information among friends and co-workers. If you're using Microsoft Word or Excel, one way to send and distribute files would be to send it via email. With Google Docs, you can easily share the documents with others via a few simple clicks. The best part, the person that you share the document with doesn't need to have any applications installed on his/her machine. He just needs to access Google Docs via a browser and begin collaborating on the file.
For frequent Google Docs users, do you sometimes wish that you could access your Google Docs files directly from within your desktop without having to fire up a browser and signing into Google Docs?
To achieve this, there is this software / platform called Gladinet Cloud Desktop which allows you to mount cloud storages as your local desktop folder.
By simply installing Gladinet Cloud Desktop, now you can easily access your Google Docs files. Backup up your desktop files have also become easier as you just copy a version of your file and place it into the folders associated with your Google Docs account. Your file is now safely stored in Google's server. Anything nasty happens to your machine, no worries as your files are backed up in Google Docs' Server.
With Gladinet Cloud Desktop, the enhanced upload and download acceleration technology speeds up data transfer significantly. If you have a high speed internet, placing and removing files from the cloud desktop folder feels like it's functioning as a folder in within the machine.
Another good feature about Gladinet Cloud Desktop is its ability for you to open a local file using Google Docs directly. So say someone sends you a zip file containing 100 Google Docs files. In order to view it you would need to upload all the files into Google Docs to launch the file. With Gladinet Cloud Desktop, you can just open the files directly as if the files have already been uploaded. Neat huh?
In case you're wondering if Gladinet Cloud Desktop is just for Google Docs, nope, it can basically supports several common cloud / SAAS applications such as Zoho, Google Picasa, Windows Live Skydrive and many others.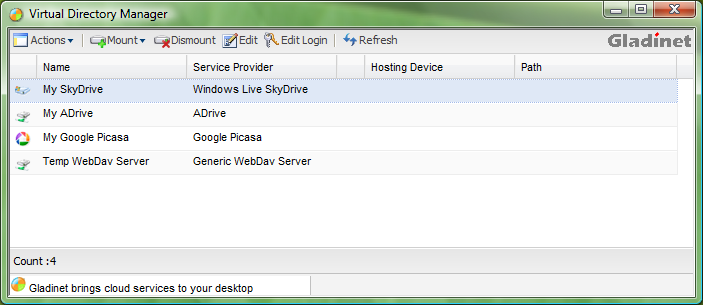 Since it supports connection to multiple cloud services, this means that you can also easily copy and move files between the various cloud applications which you have account with. For your super important file, you would want to store one copy in your local desktop, another copy in within Google Docs and another in your other cloud application. With three copies of the same file in three different locations, losing a file is no longer possible. And you can easily manage all documents easily with Gladinet Cloud Desktop.