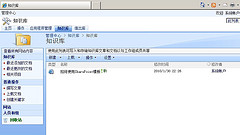 Today's post will be related to Sharepoint and will recommend a product to help Sharepoint users apply item level permissions on list columns.
By default, Sharepoint allows administrators to create a list and apply permissions to it.
For example, only users from the Accounting department can view, access and edit the claims reimbursement list while only users from the IT department can access the list of software licenses.
Permissions can be assigned and implemented on the list level but not on the column level. This is what I mean.
Let's say you have a list called active business development where you have columns such as:
BD Name
Client
Estimated Amount
Status
etc
All columns except for one can be added and edited by all salespeople but only the sales director should be allowed to edit the status column.
To achieve this you would need the ability to control and protect this particular column (Status) and restrict the data to only one person.
By default, Sharepoint did not build in this item level permission for Sharepoint columns. To have this feature, you can consider implementing this product called Sharepoint column protector by datapolis.

Sharepoint column protector allows you to define which columns within a list are visible for specific users and set the columns which can be edited by them.
For this product to work, you will need to have:
Windows Sharepoint Services 3.0 (WSS 3)
Microsoft Office Sharepoint Server 2007 (MOSS 2007)
The product comes in 2 versions, standard and professional.
With Sharepoint column protector, you can set up 3 kinds of permission levels:
Edit and display
Hide fields entirely
Display only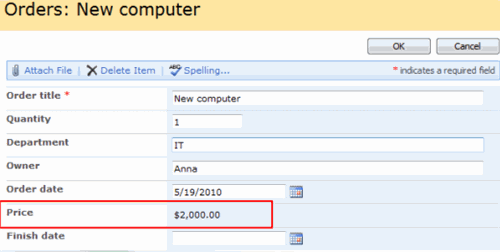 Notice how the Price column is set to display only for this particular user.
An administrator with rights to create new lists can also easily add and assign permissions via the admin interface.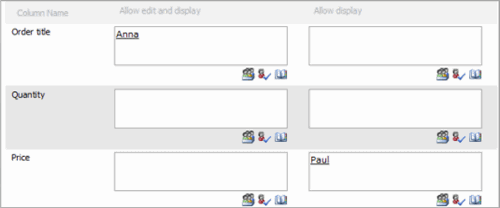 All columns of the list will be displayed. The screenshot above shows that Anna has been assigned permission to edit and display the order title.
Another strong feature has to be its ability to export to Excel with the permissions attached. For example if a user doesn't have permission to view and edit the price column, when he / she exports the data to Excel, the data will not be exported as well.
Hopefully this method provides you with an alternative to apply item level permission for Sharepoint columns. Check out datapolis Sharepoint column protector today!