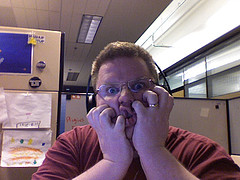 Yesterday when I clicked on the Get Mail button to retrieve new mails, I was shocked to discover that there were 4 to 5 emails which is about 30 MB in size to download. Photo by Kevin Lawver.
Luckily my Internet connection speed was OK, and managed to download everything in within 5 minutes.
Once downloaded, I realized that the emails were sent by a colleague containing photo images taken during the office Christmas party.
He probably didn't realize the consequences of sending multiple emails with large size photos:
Takes up network bandwidth which basically translate to 30 MB of data upload and another 300 MB of data download because there are 10 people in the company receiving his emails.
If someone is trying to retrieve an urgent email, these big sized emails can take a while to complete downloading before he / she can view the urgent email. Of course this user can log into the web mail to view the email directly, but not everyone knows how to do this. Some just depends on their email client programs to get emails for them.
Imagine if 10 minutes is needed to download 30 MB worth of emails and there are 10 people in the company, a total of 100 work minutes would have been wasted on trying to download photo images.
A more productive way would be to upload all the images in to a shared folder within the network and just send the link location to everyone for their viewing pleasure whenever convenient.
But if you feel that sending emails containing photos are more personal and direct, then there's this really cool tool which helps to auto shrink the size of photo images when attaching in emails. Photo adaptation below: http://www.flickr.com/photos/striatic/ / CC BY 2.0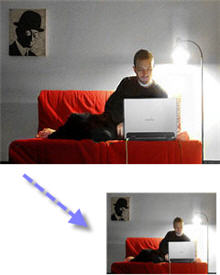 The tool is called Shrink Pic by OnTheGoSoft.

Shrink Pic is a FREE neat little Windows based application which runs in the background of your machine. Once running, whenever you try to upload or send a photo image over the Internet, it is smart enough to detect that and automatically reduce and shrink the size of the photo.
The following photo file types can be processed:
Besides auto shrinking your photos on your email client, it also works on:
Skype
MSN Messenger
IE
Firefox
Opera
etc.
Sample screenshot: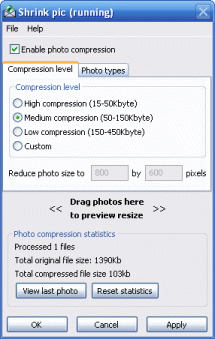 Some key observations about Shrink Pic:
Shrink Pic is a must have if your Internet access charges are based on data transfer. Without this tool, you'll need to ensure that any images are shrinked before being sent out. If not, be ready to pay expensive Internet charges.
The auto shrink feature which runs in the background does the job really well without me having to worry about large file sizes.
One downside of Shrink Pic is it's inability to process and save all images in within a folder. To do that, I need to drag photos to the control panel, and saving it one by one. This feature would be really nice to have.
What do you think about Shrink Pic? Do give Shrink Pic a try today!