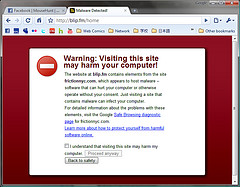 If you're the owner or webmaster of a website, did you know that your website could get infected with malwares and eventually blacklisted by search engines? Image by Navarr.
This happened to a friend's website which is hosted at blogger.com. Apparently the site got hacked and began to infect web users who surfed the site with malwares. Because of this, when search engines found out about this, the site got blacklisted. Basically this means that no more traffic will be sent by search engines to the site. To make matters worst, blogger.com eventually removed the site totally to reduce and stop web surfers from getting infected. Imagine years of hard work done for the site, gone just like that!
Even I have experienced having one of my sites getting hacked and injected with scripts which automatically sends out phishing emails. Because of this my web host has disabled all services (smtp, http, ftp) until the problem is fixed.
But how would I know where the problem is? I asked them about it and they told me to check my codes. I was like.. hrmm…. but there are thousands of lines of codes to check. Where do I start? Their only answer to me is that my site will only be brought back up when the scripts are fixed and phishing emails are no longer being sent out. You're on your own dude!
The only thing I could do is to check through all possible loopholes one by one:
Disabling a PHP Mashup Code that I once tested and left it on the site
Upgrading all WordPress codes
Upgrading all Joomla codes
Ensure PHP and MySQL versions are up to date
Deleting test admin users
Renaming to strong passwords
After doing all the above, I informed my web host and they enabled my site back up.
I can only conclude that these days we not only get viruses on ourselves, our pc, notebook and servers but also on our websites as well. Sigh.. when can the world be clean from nasty viruses and infections that trouble our lives?
In today's post, I initially wanted to name it – How to protect your website from being hacked and infected with Web Malware, which is a preventive measure. However, there's not much to say about it except that you will need to secure your codes. If your site is using some blogging software like WordPress or Drupal, you'll just need to ensure that it's upgraded to the latest version and hope that hackers do not target your site.
What if your site has already been compromised and you now need a way to get it fixed by finding out where the root of the problem is. A place for you to start is to check out Dasient Web Anti-Malware
Dasient Web Anti-Malware is founded by Ex-Google Engineers. The Anti-Malware web service helps websites diagnose problems if the site is blacklisted. See below for a sample screenshot.

If your site is not blacklisted, then you can opt for monitoring maintenance with Dasient WAM monitoring where by if your site is infected, you get alerts right away. There are currently three different types of monitoring plans: Free, Standard and Custom Quote.
Satisfied customers are claiming that they get a peace of mind with Dasient monitoring their websites and be assured never to be caught off guard again.
With so many web attacks occurring lately, can we afford to have our site compromised? If not, check out Dasient Web Anti-Malware.