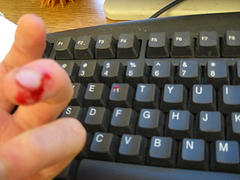 The other day, my parents asked if I still kept a softcopy of the house rent agreement that was created 3 years ago. Searching through my documents, I couldn't find the softcopy of the document in my hard disk. Looks like we will have to retype the entire 12 page long document! My wife spent nearly 2 full days to retype the entire document in word. Image by jarrodtrainque (Don't worry, not my wife's finger! :))
Today I actually found a solution to this problem. How I wish I found it earlier.
Have you ever received a pdf document or image which text cannot be copied at all? These pdf documents have been locked for copying before it is generated. As for images, they basically comprise of many many pixels making it impossible to copy unless you have an an optical character recognition (OCR) software with you.
This article will attempt to show you how you can convert a pdf or image to TEXT for free.
To do that, simply head over to this Free Online OCR site.

This free online OCR site does exactly what it says. Provide the ability to OCR your image or pdf for free. Instead of you going out there to purchase an OCR software which you rarely use, this site gets the job done for free.
All you need to do is to upload your file (PDF, JPG, GIF, TIFF or BMP) and it will automatically display the text from the file that you've uploaded, which you can then copy.
I have personally tested the accuracy of the conversion. For images, I can say that the accuracy is about 90%. After the text is displayed, you will still need to reformat the document as some line breaks may be automatically added. And if you have text which are underline, usually the headers or sub topics, it may lose its accuracy. But if the entire image is purely paragraphed text, it will convert nicely saving you many hours of retyping.
As for PDF conversion, I find the accuracy to be quite low. If you're trying to convert a PDF to text with this Free Online OCR you'll just need to give it a try. If it doesn't work that well, try converting your pdf to image first then upload the image. Hopefully the conversion works more accurately for you this way.
So here you go, I hope this free tool saves you many hours of retyping! 🙂