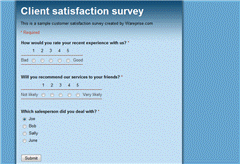 Need to create a simple online form to gather feedback?
If you're a non technical person and your programmer friend isn't available to help, getting an online form up in HTML format can be quite challenging.
From a technical perspective, an online form can be generated by creating a database and programming the user interface to collect data from people.
Today we're so lucky to have various SaaS web based tools available for us to easily create an online form.

A good one that I can recommend is forms within Google docs, and yes it's free to use. Just sign up for a Google account and you're ready to begin.
In today's post, I'll briefly walk through some steps on how you can use the Form Builder within Google Docs to create a simple online form to gather feedback.
Assuming that you already have an account, once you log in, click on Create new > Form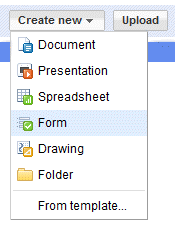 You should see a create new form page where you can enter / create
Form title
Description of the online form
The question and question types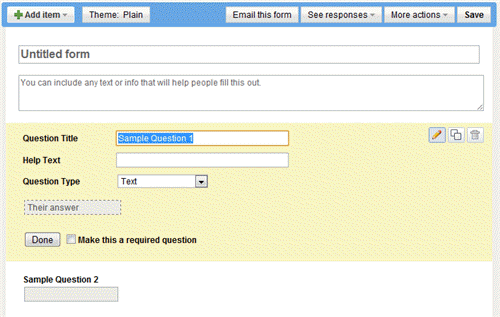 The various types of questions that can be created include:
Text

Paragraph text

Multiple choice

Checkboxes

Choose from a list

Scale

Grid

As you can see from the screenshots above, creating questions for the online form is as simple as just entering the details without the need for any programming work at all.
Enter the required information, click Done and the question is saved.
Below is a sample client satisfaction survey that I've built. See the actual online form here.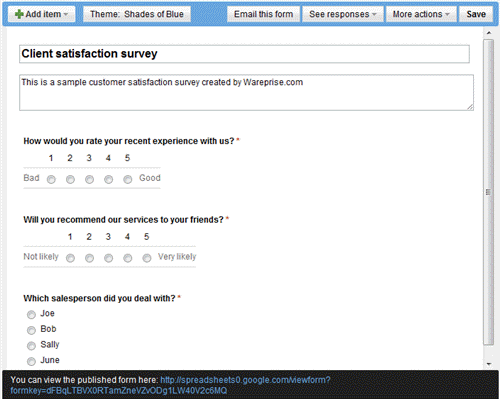 Some other things that you can add into the form includes section headers and page breaks. This is useful if your form needs to be presented in several sections / pages.
Once your online form is complete you can apply a theme on your form so it looks good.
When the form is ready, now's the time to begin gathering feedback. To do that, click on the Email this form button.
Enter all the email addresses that you would like to send the form to. Once you click send, your recipients will receive an email with a link to your online form.
From time to time, you can login to check all submitted responses either in spreadsheet format or summary format.
Spreadsheet Format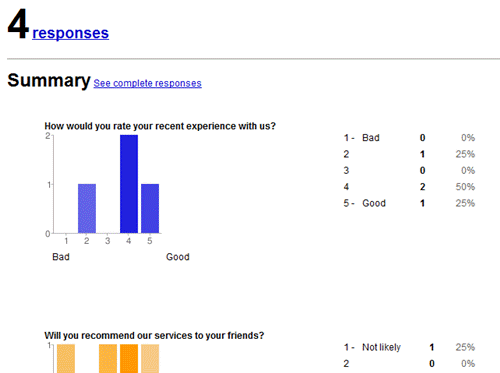 Summary Format
Hopefully from today's post, you can visualize how easy it is to create a simple online form for you to gather data.
Although we can use Google Docs to create online forms, I do hope that in the future, the following features can be included:
Provide an ability to track which user has or has not submitted a response.
Do not allow a user who has already submitted a response to resubmit another one.
Ability to create even more question types such as those from LimeSurvey question types.
Allow branching rules, for example, if user is a male then show questions from set A, otherwise set B.
Ability to apply our own style rather than just choose from a predefined set of themes.
For more of these improvement requests, check out How would you improve Google forms.
If you are on reading this post looking for a survey management tool which provides the required features as mentioned above, then you should also check out LimeSurvey – an open source survey application. If not, Google forms should do just fine for you.
Hope it helps. Enjoy!