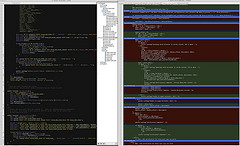 Whenever a business unit within an organization needs to automate a business process or have a centralized database to store information, they will work together with the IT team to develop a web based application. photo credit: jblyberg
Tools such as Microsoft Visual Studio or Aptana Studio can be utilized to develop web applications either using .NET programming language or open source ones such as Java and PHP.
Once an application is fully developed, it will be hosted in house on a production server for users to access.
These days, organization have more options when it comes to developing web applications.
Rather than investing on the following:
Licenses for application development tools
Licenses for operating systems
Hardware
Network bandwidth
Organizations can choose to develop their web applications online through Platform as a Service (PaaS).
PaaS is quite similar to the concept of Software as a Service (SaaS) but instead of getting a pre-built application, you can develop your very own application via a PaaS provider.
For example, let's say that your organization likes what a SaaS application has to offer but all you need is just a few of its features.
On top of that, you need additional fields to be included in the system to meet your requirement. It is likely that the SaaS provider might or might not add the additional field for you since it involves changing the database schema which affects other users as well. A change usually takes place only if it benefits all users of the SaaS application.
Due to these SaaS limitations, PaaS providers allows businesses an ability to define and develop everything by themselves as if they are building an application from scratch minus the headaches of hardware maintenance, software licenses maintenance, network monitoring, etc.
There are already many PaaS providers out there in the market today. A few that I know of at the back of my head is Force.com, Zoho Creator, LongJump and WOLF.
I recently managed to give WOLF a try so today's post will be a quick and simple review on WOLF PaaS.

WOLF is a browser based PaaS which allows organizations to design and deliver database driven web applications.
When developing web applications on our development machine, we usually need to write many lines of codes before we can see any UI output.
I still remember the pain of having to create database tables, writing SQL statements and stored procedures, compiling source codes and hitting onto brick wall pages full of error messages and lastly, countless hours of debugging.
Are we going to face the same challenges when developing a web application on WOLF PaaS? Read on..
I began by signing up for a FREE Starter Plan which allows me to create an unlimited number of applications for FREE but with a limitation of only 2 users and 100MB storage.
Once activated in less than a minute, I logged into the system and immediately clicked on the Add New Application button.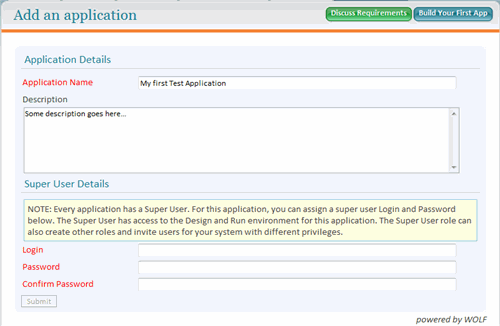 Once created, I clicked on the Design button to see how to design interface looks like.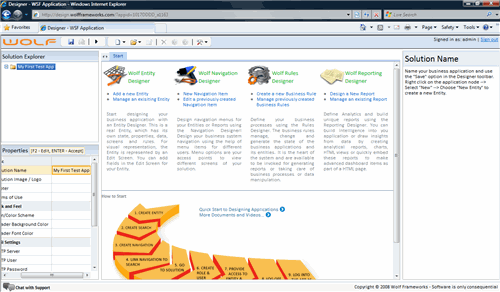 At first glance, the bottom left pane looks familiar as it is quite similar to most application development tools where you can specify the properties and settings.
The center pane provides a much needed step guide on how to start developing the application.
These description alone weren't sufficient for me to begin so I checked out the Quick Start to Designing Applications document which provided a detail step by step guide on how to develop a Contacts Manager Application.
But in summary, we need to start off by creating an Entity where we get to define:
Field Types
Search Criteria
Search Results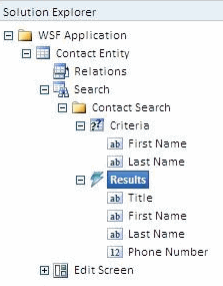 Once the Entity has been defined, now it's time to create a Navigation Item so that we can link the entity that was just created to a user interface.
Applying a few more settings and running the application, below is the output for the contact manager application.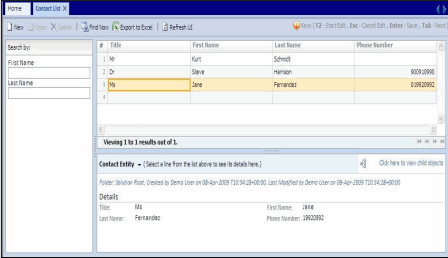 Once the web based application is complete, you can give access to your users and allow them to begin using the system. It's really as simple as that.
Some other key features of WOLF includes ability to:
Build reports using the Reporting Designer
Create business rules based on your business processes
Integration with legacy systems via XML
Organizations have utilized WOLF to deploy their applications online for the following purposes:
Information Management Solution
Accounting and Financial Solution
Fleet Management Solution
Hopefully today's post provides you with an insight into how WOLF PaaS can be used to build web application quicker, lower costs and focuses on your business needs.