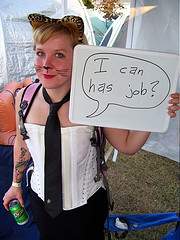 Last week, a colleage asked me how he could highlight a misspelt text in a pdf document. The reason why he wants to do this is so he could highlight the various spelling errors and send it back to the vendor to have it corrected.
The first thing that came to my mind was to create a screenshot, followed by using a photo editor like Paint to highlight it.
This led to his next questions, how can I do a screenshot? And how can I use Paint to highlight the text?
From his questions, I know that this method is quite messy and troublesome for someone who's not that computer literate.
There must be a better and easier way to edit and highlight a text in a PDF document.
Searching through the Net, I found three sites which allows one to edit a pdf document. The best part, the sites offer the pdf editing services for free, meaning you need not install anything on your machine in order to use it. The three useful tools are listed below. Image by Phil_g

PDF Hammer allows you to quickly and easily edit your PDF files online without installing a thing! Simply upload PDF files to PDF Hammer via your web browser, perform your edits, and then save the files back to your computer. The online editor allows you to view the pages of your PDF files as you edit them. The free PDF editor has various other capabilities such as combining pdf, editing pdf pages, securing pdf and updating the metadata of the pdf.
According to ZDNET, PDF Hammer is by far the best PDF Editor on the Market.

DocQ, previously known as PDFVue is the first online PDF editing tool designed to annotate and markup PDF's for free. With DocQ you can upload any document from any computer without having to have expensive client software. Once you've made your changes you can simply download the updated PDF or share the secure DocQ link.

PDFescape is your free, online PDF reader, editor, form filler, & form designer. With PDFescape, you can fill in PDF forms, add text and graphics, add links, and even add new form fields to a PDF file.
PDFescape is free online PDF editor without required downloads or installations!, without watermarks and does not require registration to use.
————————– END ————————————
Happy PDF editing!