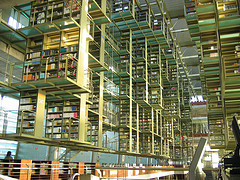 Does your organization currently utilize any knowledge management system (KMS) to store important company related information and documents?
If your organization is still depending on shared folders and emails as a means to capturing and retaining knowledge, then there is an online application called Google Sites which can help your organization manage information better, in a more organized manner. Photo by * CliNKer *.
It is important to keep company information in a central location so that we can easily gain access to it whenever necessary.
If an employee resigns from a company, he / she leaves with the experience and knowledge, unless there is a policy that encourages existing employees to deposit all of their work practices, experiences and deliverables into a knowledge management system.
In order to encourage the development of a KMS, some organizations treat this practice as a KPI which will be evaluated during work performance reviews. Basically, the more information an employee enters into the KMS, the better is his performance.
Most organizations have long practice this method of managing and retaining knowledge through a KMS. One system which is commonly used is Microsoft Sharepoint, however it does require an IT professional with Sharepoint knowledge to install, configure and set up. The minimal cost to this includes having to purchase a server, an OS license and service fees for the Sharepoint consultant.
If cost and technical abilities is a constrain, then Google Sites is a way for your organization to begin managing and retaining knowledge. To start off with, you'll just need a Google Account access.

In the past, I always thought that Google Sites is meant purely for beginners to create their very first website for public view. Giving it a thorough try today, I realized that Google Sites can be treated like an organization's intranet system which is hosted within Google.
See a sample of an Intranet system created with Google Sites
Creating a Google Sites is really simple since there are templates to choose from.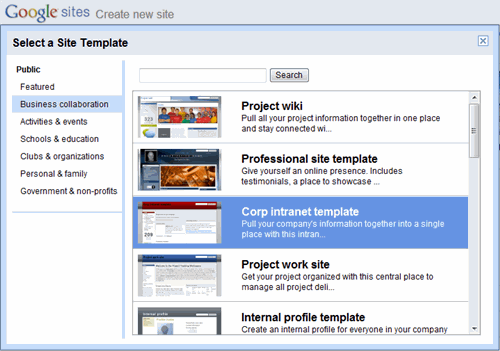 If you need to create an Intranet, simply select the Corp Intranet template to begin with.
Do take note as you're creating this Intranet site, there is a section called More Options (screenshot below).

By default, the site will be shared with the public. I'm not sure if you would want your Intranet to be shared with the world but I surely don't. To make this site private, meaning only people within your office which you give access to can view the contents of your Intranet site, select the radio button (Only people I specify can view this site).
Now once your site is set up, it's time to populate it with data and information.
You might want to schedule a short meeting with some key users to discuss what sort of information should be placed in this new Intranet. Some ideas include:
Announcements
Employee handbook
Project related documents
Company policy and procedures
Business development details
Once done, it's now time to figure out how certain information should be presented. In Google Sites, we can present information in any of the following format:
List
Web page
File Cabinet
Announcements
Department Page

One of the most common method of presenting information has to be the web page template which is basically a big placeholder to enter information however you want it to appear.
But one of the most powerful format has to be the List format.

As you can see, the common lists includes
Action Items
Issue List
Unit Status
If you need to create a list of items which is not part of the list templates, it easy to create your own by simply specifying the column headers. To see what I mean, check out this list sample that I've created.
Lists are really useful when you need to collect structured information. By defining the data columns, everyone would know what data to key in. Eventually, you would have a list of data which you can easily compare and analyze.
Overall, Google has done a great job with Google Sites and allowing the public to use it for free. I don't see why any organizations wouldn't start using it to manage and retain knowledge. Head on over to Google Sites to create your very own site today!