Did you just receive an excel file attachment with a .xlsx file extension from a friend or colleague but can't seem to open it on your machine? Image by Ivan Walsh.
Although you have Excel version 2003 installed in your machine, you can't seem to open it and you might be wondering if the file is corrupted. Well, the file is fine. You just need the right application to launch the file.
Before I proceed to provide a solution, you might be wondering what's the main difference between .xls and .xlsx Excel file format.
The new version of Excel 2007 by default creates a .xlsx file extension every time you create a new Excel document. This new .xlsx extension indicates it supports the use of a new XML based file format so that it is more efficient in saving data which also leads to smaller file size. With this XML support, integration with external data sources such as web based applications becomes much easier through XML interchange.
There are a few ways how you can open and edit a .xlsx Excel file:
If you need editing capabilities, download Microsoft Office Compatibility Pack for 2007 (27.5 MB). For this to work, you must have at least Office 2000 version installed.
If you just need to view the .xlsx Excel file without any editing, download Excel Viewer (74.1 MB)
Note that both ways above requires you to:
Download the files,
Then install the application on your machine.
I foresee that you'll need at least 15 minutes before you get to view the content of your .xlsx file, depending on the speed of your Internet and your PC.
A quicker way for you to view the .xlsx file would be to do it online. This method requires you to just upload your .xlsx file online and the SAAS application will launch the file so you could view, edit and even save the file in .xlsx format.
I have tested this method on Google Apps Spreadsheet and yes, you can open .xlsx file with it. But today, I would like to take the opportunity to mention another online spreadsheet application called: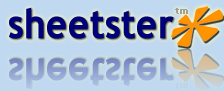 Sheetster.com – a free Open Source web spreadsheet for everyone, developed by Extentech.
With Sheetster, all you need to do is upload your file and begin all your spreadsheet tasks.
Some key observations about Sheetster:
If you like the spreadsheet web capabilities, you can actually host this web based application on your own server or even laptop. Since it is open source, you can download the source codes here while the Sheetster Server PRO installer can be downloaded here.
You can share your spreadsheet with others and collaborate on it together.
The spreadsheet web interface looks and works just like Excel, so if you have been an Excel user, there won't be any learning curve to Sheetster at all.
I think the fact that Sheetster is Open Source is really cool as there's so much that can be done together with this web application. Soon, Sheetster will also be able to integrate with other major apps like Alfresco, Facebook and Twitter.
If you're reading today's post on how to open and edit Excel 2007 .xlsx file online, check out Sheetster.com and Extentech today!