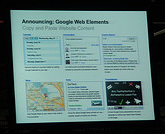 Today I got an email notification from the Google Adsense Blog about Introducing Google Web Elements.
Basically with Google Web Elements, you can add Google products onto your website. If your website is currently a little bit empty, you can choose to publish on your site any of the following Google products:
Calendar
Conversation
Custom Search
Maps
News
Presentations
Spreadsheets
YouTube News
One that caught my attention was the Spreadsheets Element which allows you to publish a spreadsheet on the web basically showing content from within Google Spreadsheets to your site visitors.
What I really like about Spreadsheets Element is that as I update the data from within Google Spreadsheets, my site visitors too would be able to see the most updated data. I would consider this data as live because when I update it, my visitors too can see the exact same data.
I  decided to give Spreadsheets Element a try by publishing some data I've got from my Wareprise survey. The survey is currently hosted with at LimeService. Sometime last year I explained how you could create your very own online survey for free. You can check out the post here – How to create and conduct an online questionnaire / survey for free.
Since the Wareprise Survey was launched about 10 months ago, there were a total of 78 responses from my site visitors.
In order to test out Spreadsheets Element, I exported all data that I've received for the survey into .csv format and from there on imported the data into my Google Spreadsheets account.
The .csv data was imported successfully and I removed some unnecessary columns. After everything has been cleaned up, simply copy the url of the spreadsheet over to Spreadsheets Elements.
Once done, see the outcome below.
As you can see above, it's just a table of all responses I've got from the survey but what you're seeing above is exactly what I see from within my spreadsheet. As I update the spreadsheet with more responses later on, the table too would change accordingly.
From the data above, I was curious to know how many people who answered the survey :
Are female
Are 50 and above
Find the articles in Wareprise interesting
Would recommend Wareprise to friends and family members
One way to find out would be to manually calculate the numbers. But there must be an easier way to analyze this data.
With Microsoft Excel, we can easily find out the answers to the above questions by applying PivotTable which allows you to easily drag and drop the measures to analyze.
Now the big question is, can we have PivotTable capabilities on Google Spreadsheet? The answer is YES, but I'll only reveal it on the next post.