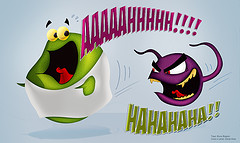 Recently my notebook ran very slowly especially during start up and I thought it was time that I sping clean my machine.
And to do that I researched for ways to speed up Window XP.
One of the easiest and most effective method to speed up XP would be to launch System Configuration Utility by going to Start > Run then type MSCONFIG.
On the Startup tab, I can see many applications which I don't really need for it to be automatically started up. So I went through the list and removed some apps. Once done, I restarted my machine and indeed it did start up a bit faster, maybe by few seconds. Photo by Bruno Biagioni Neto
I then launched the System Configuration Utility again just to check through what other apps can be disabled. To my surprise I saw this particular app still enabled even though I have previously unchecked it.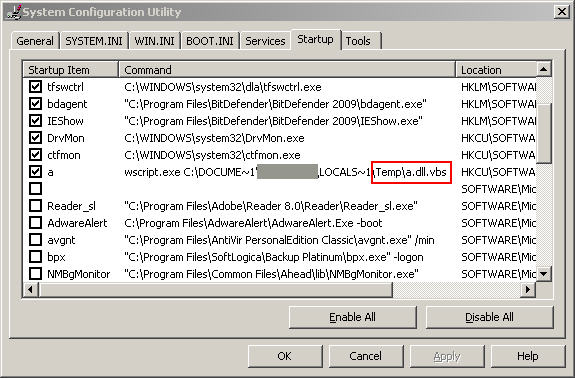 The startup item is "a" and the command is wscript.exe …. \temp\a.dll.vbs
Immediately I did a search on how to remove a.dll.vbs and indeed it's a virus.
Now you must be wondering… what does a.dll.vbs virus does to our machine? Frankly, at the time of this writing, I don't really know. All I know is that this virus or trojan, whatever they call it, is in my machine and I want it out!
My antivirus software, PC Tools Internet Security somehow did not manage to catch it so it must be not that reliable after all. I went ahead and uninstalled PC Tools Internet Security.
Instead I downloaded BitDefender Total Security 2009 which provides a 1 month free trial. If you need an additional 7 months to use this antivirus, find out how from this post.
Once BitDefender was installed and running on my machine, immediately it blocked the a.dll.vbs virus from executing.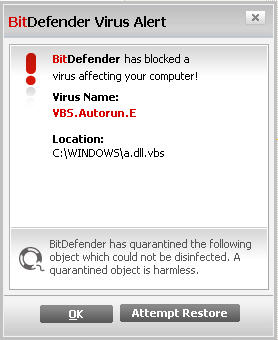 The good thing is that the virus no longer keeps executing.
The bad thing, the pop up keeps alerting every minute or so. Proves that the virus has been running actively all these while.
So I did a full scan and let BitDefender do its thing.
After I restarted, the virus is no longer there. Yee haa!
But don't celebrate just yet.
The thing with this virus is it will also easily infect any external drives that you plugged into the machine. When i checked my external hard disk, it was in fact infected as well.
To kill the virus on the external drive either get BitDefender to do its thing or follow step on this post to remove it manually.
The reason why external storages get infected is because they auto run everytime it gets plug in. So another safety precaution that you should take is to disable auto run on windows.
Hope my guide here helps anyone facing the same problem.