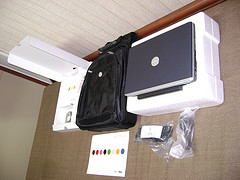 Recently I bought a new Dell 1420 (Intel Core Duo T6400) and packed it with 4 GB RAM + 320 GB HD.
This notebook  is quite a good deal – about $720 USD.
My old Dell 6000 was really old and slow, so I thought it's about time I get a new one.
With 4GB of RAM and 320 GB of HDD, I've got lots of computing power and one way to fully utilize the available resources is by running multiple operating systems simultaneously. Photo by Leo s mavely
Now you must be wondering why in the world would I want to do that. Well, there are actually many advantages to this. In simple terms, it's like you have access to two different computers at the same time. And in complicated terms, this technique is called Virtualization.
Now let me explain how I use virtualization on a daily basis. On my main operating system, which is Vista, is where I have all my frequently used software such as Microsoft Word and Outlook installed. Now, since I'm a software developer, I usually need to design and write codes in LAMP environment as well as .NET environment. My recent assignment requires me to work on Windows Sharepoint Services whereby the requirement to run it is Windows 2003 OS + .NET 3.0 + SQL Server. This would mean that there's no way for me to install Windows Sharepoint Services on my existing Vista OS.
So to overcome this, I installed Microsoft's Virtual PC and set up a Virtual Machine with everything in it to run Windows Sharepoint Services. Once done, I could access both OS at the same time. When I need to access Windows Sharepoint Services, all I need to do is to fire up the Virtual Machine directly without having to shut down and boot into another OS.
The sample screenshot below shows Ubuntu running in a Virtual Machine. while the host environment is in Vista. Photo by Photo Mojo
Besides Microsoft's Virtual PC, some other virtualization software are:
Some other benefits of using virtualization software:
Saves cost on hardware
Have rollback capability just in case some mistakes were made in the virtual machine, you can choose not to commit the changes
Easily transfer virtual machines among friends and colleagues. Usually 2GB in size and above.
Easily backup everything in the virtual machine simply by copying the virtual machine file to an external hard disk.
So obviously there are many advantages and benefits of using virtualization. But there are 2 things which I must point out.
To run virtualization smoothly, your machine better have lots of RAM and hard disk space available. Otherwise, it will either not run at all or even if it's launch, it will be very slow.
For each software that is installed in the Virtual Machine, you will need a license for it. Meaning that, just because you have an Adobe Photoshop license for your host machine, it does mean you can install and use it legally in the virtual machine as well. To be safe, just remember to treat each virtual machine as if it's a separate machine altogether which requires it's very own software licenses to run legally.
I guess the next Virtual Machine that I will build is one with Windows 7 beta in it. It's about time I start playing around with it.
Till then, happy virtualizing!