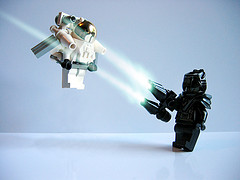 Managing IT in within an organization is never easy. Every single detail with relations to IT such as using the email, surfing the Internet, and even printing of documents need to be managed. Without proper rules in place, IT end users might end up misusing technology which was originally meant to automate business processes and improve productivity. Image by Helico
Some examples of users misusing IT in within the office environment includes:
Printing and scanning documents which are not office related
Surfing the Internet for inappropriate materials
Top secret company information leaked out to competitors
Using email to send spam to the public
Using instant messengers to chat all day ignoring work priorities
Most of the above are usually practiced by staffs and the main reason is due to the lack of enforcement through proper IT policies and procedures.
Without IT policies and procedures in place, a staff caught violating any of the IT misuse above can just say… Hey! I didn't know that this is not allowed. Where is it stated that I'm not allowed to do this?
Depending on the violation done, the damage could vary. The worst violation I believe is company information being leaked out to competitors and not having a way to take legal action against this particular staff.
Sometimes, policies and procedures are not just used to limit what IT users can or cannot do. IT policies and procedures can be used to provide guidance for all to follow based on the organizations best practices developed over the years. When work activities are carried out according to a predefined procedure, work can be expected to be of higher quality and completed on time.
To start off creating and managing IT policies and procedures. There are two methods.
1. Create and implement IT policies and procedures from scratch.
2. Obtain guidance and templates from those who have successfully implemented IT policies and procedures.
If you prefer method 2, do check out The Art of Service's IT Professional's Guide to Policies and Procedures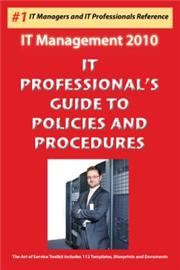 This is a 112 documents – instant download which provides to you templates which will help you create your own policies, guidelines, and forms that are relevant to your organization.
The 112 document are grouped into the following 9 folders:
Folder 1: Policies General
Folder 2: Recruitment Training and Development
Folder 3: Information Security
Folder 4: Data Retention Policies
Folder 5: Email and Internet Usage Policies
Folder 6: Instant Messaging Policies
Folder 7: Change Management
Folder 8: Managing Risk
Folder 9: Travel and Expenses
The following are some key documents in within the folders:
Creating policies
Performance management process checklist
360 degree feedback
Communication plan
Security audit template
Guidelines for building electronic data retention policy
E-mail and Internet Usage – How to draft the policy!
EXAMPLE – Notre Dame Australia Policy – Email and Internet Usage
Thirty-Two Instant Messaging Rules – Best Practices to Keep You in Business and out of Court.
EXAMPLE TEMPLATE – Instant Messaging Use Policy
Example Request for Change Workflow
Risk Management –  Project Management
Example Copy of Employee Reimbursement form
Also, check out Klariti's Policy Manual Template ($9.99)