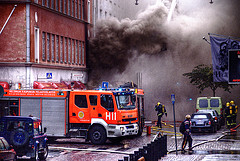 Disaster recovery is the plan set in place by an organization, to recover speedily after some disaster occurred. Photo by wili_hybrid.
Although the term could refer to recovery of any kind of disaster, in industry terms this specifically relates to the recovery of technological structures and typically is the responsibility of the IT department to prepare, maintain and implement during times of a disaster.
The disaster recovery plan is merely a subset of a much larger process, which is known as business continuity planning. The business continuity plan would include planning for aspects that does not relate to IT, such as personnel, crisis communication and facilities. Specialized emergency planning, such as a pandemic preparedness plan, would typically be crafted only afterwards, to support the overall business continuity plan.
What does it consist of?
The disaster recovery plan consists of procedures, policies and various processes and system which is all aimed to promote a prompt recovery with minimal operational impact in time of a crisis or emergency at some time.
It should include a proper plan for resuming applications, hardware, data, networks, communications and any other essential IT infrastructure.
Why is it important?
As we are living in the information age, information technology is probably considered the most critical function within an organization. Loss of critical data, or leaking out of such data, could result in organization closing shop within a short period of time. A company that struggles to get back on its feet after a disaster is also likely to loose its clients soon to competitors who were better prepared.
In the event of a disruptive situation, any responsible organization should thus have a proper plan in place to not only protect their data, but also to ensure continuation of business as soon as possible.
Money spent on disaster recovery plans
Money spent to put disaster recovery plans in place could be considered in the same category as paying for insurance. One may never reap any benefit for the money spent, if one is fortunate to not face emergencies or disasters, but the consequences of not having it in place could be astronomical. It is for this reason that the majority of large companies allows for two to four percent of their budget for IT to be allocated to disaster recovery planning.
Although very few organizations ever face such major disasters during their business operations, most would encounter small problems from time to time such as a temporary power failures or hardware failures. Even with these small problems occurring, it's highly advisable for organizations to have a plan in place for all who are responsible to act upon.
The process of preparing a disaster recovery plan
The process would typically start with identifying the scope as well as the boundaries of the overall business continuity plan, where after a business impact analysis would be required. The concepts should then be sold to upper management in order to obtain financials as well as organizational commitment. The plan should make it clear for each department to understand their respective roles in the plan before it is then implemented and maintained.
How to kick start the IT disaster recovery plan?
Develop one and implement it in house.
Get help from professionals who deal with business continuity on daily basis. Check out StoragePipe's business recovery service.