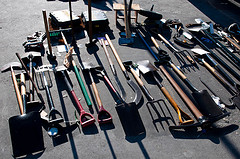 The best thing about Microsoft SharePoint is that you have full control to do what ever you want. Developers can add "web parts" to their SharePoint for specific functionality that may not exist in other businesses' SharePoint web sites. photo credit: humbert15
What is a web part? Also referred as a web widget, it is a modular unit of information and an ASP.NET server control which is added to a web part zone on web part pages by users at run time.
SharePoint web parts add crucial functionality to modify the content, appearance, and behavior of SharePoint environment. Several innovative companies around the globe are developing free as well as proprietary webparts.
In this article, we will list down five free and popular webparts that you can try in your SharePoint environment.
1. World clock and Weather Web Part

World Clock & Weather Web Part allows users to display local time and weather for selected major cities around the globe.  This free Web Part allows you to show weather or clock by location with temperature, date, and time. Moreover, it also show as many locations as you want with the option to scroll through each location. It allows you to choose from analog or digital clock styles as well as its colors.
You can run this webpart on Microsoft Windows SharePoint Foundation 2010 and Microsoft Office SharePoint Server 2010. It also has built in holiday features.

Google Chart webpart allow users to chart data contained in a specified Sharepoint List. The charts are created via Google's public Chart API.
Parameters can also be configured which includes the list containing the data to be visualized, search filters, chart types, dimensions, chart titles, background colors, color palette and legend. This widget is available both in free as well as licensed version which provides additionally technical support.

The Banner Rotator Web Part rotates the image files contained in the specified Sharepoint Picture Library using smooth transitions between the images. The Web Part can be used with WSS V3, Sharepoint 2007 and Sharepoint 2010.
The following parameters can be configured:
Optional Library Folder containing the images
Transparent Text area (can be freely positioned)
Sharepoint Picture Library containing the pictures
Rotate banners, show a new banner every day or on every page refresh
4. MashPoint

MashPoint is a single unified data access platform that can be used to gather data living both inside and outside of SharePoint. It enable accessibility and integration of external data sources directly from SharePoint, visualize and interact with them via Web Parts or custom applications.
Mashpoint includes Data-Viewer WebPart, Chart Plus Webpart, Calendar Plus Web Part, Virtual Map View Web Part, Tree View Web Part and Mini-Calendar Webpart.  Moreover, developers can also use the Mashpoint API to author their own .NET Applications to link to proprietary data stores.
5. Facebook Kit

The Facebook Kit for SharePoint (FKS) allows users to leverage on the Facebook Connect APIs
With the Facebook Kit for Sharepoint, developers can build functionalities such as ability to login to Facebook from within Sharepoint as well as showing Facebook status on a Sharepoint page.
The pre-developed web parts included in FKS are:
Facebook Login Web Part
Facebook Share Part
Facebook Profile Picture Web Part
Facebook Status Web Part
Facebook Comment Web Part
———————— End of free sharepoint web parts download ———————–