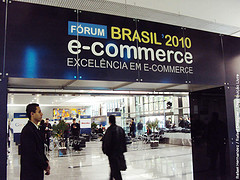 With the Internet being the latest business platform in today's world, most real-time business owners are looking ahead to create their very own online presence, aiming to boost their businesses not just in the local market, but also internationally.  photo credit: rafaeldesigner
Managing online stores and the never ending list of newly launched products and services can sometimes complicate your e-business experience.
With Magento – an open source PHP eCommerce platform, managing your e-business just got much simpler.

Launched in 2008, Magento is the ideal ecommerce open source platform that has altogether changed the definition of e-business.
The platform was designed by Varien Team, a long term ecommerce service provider.
It is today available with a wide array of tools to help e-retailers create and manage a well organized online store.
Some of the well known sites which are powered by Magento includes (Magento Showcase):
As of today, there are 3 editions of Magento namely (compare editions):
Magento Community (Free download)
Magento Professional ($2995 USD / year)
Magento Enterprise ($12,990 USD / year)
The platform includes a wide array of features which is hence considered as one of the major benefits of the platform against other similar apps such as OsCommerce.
OsCommerce is also an open source php ecommerce based system, but provides fewer features as compared to Magento. OsCommerce is partially a raw system with a few advantages which are shadowed by its restrictions.
OsCommerce is not a template driven system, has no password protection structure for the administration and managing large scale product details can sometimes be difficult (Source: Disadvantages of OsCommerce).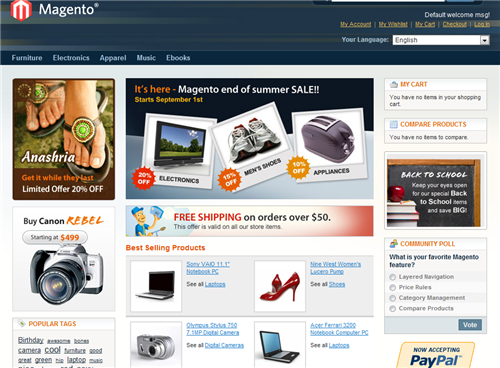 Magento, on the contrary is a solution designed for the same purpose. It has integrated the best features of the OsCommerce system.
Magento includes a strong programming structure that allows easy upgradation. Once installed, your ecommerce website can be easily customized based on your business needs. Apart from these, it also includes a list of features which are not offered by the OsCommerce system.
For instance, integration with Google Analytics, order editing, coupons, meta tags, SEO URLs, product comparisons, shipping estimator, editable order mails, meta tags, etc. are just a few of the features that prove its upper hand over its competitors.
The Magento system has a range of advantages which makes it a favorite amongst all ecommerce based site developers and eStore managers.
One of the key strength of Magento has to be its administration panel which has a dashboard displaying key information such as the number of orders, average order amount, bestsellers and more.
I also like the simple to use product catalog administration which allows categories, products and its attributes to be easily added and managed.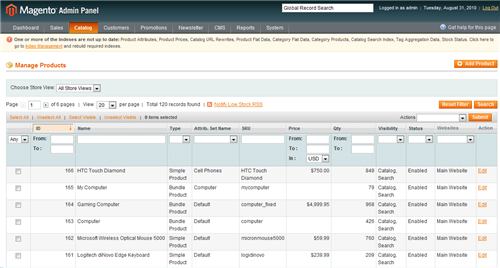 Some of the Magento's pros include:
Modern and neat layout.
Upsell option during the checkout.
Inbuilt product image zoom feature.
Offers its users 50 and more payment gateways.
One-step integration of add-ons, layouts and themes.
Allows the management of multiple online stores through a single administration panel.
Magento has proved its worth as an ecommerce platform and hence is the ultimate choice for your ecommerce website.
For more details about this open source php eCommerce solution, check out Magento today!