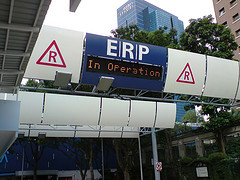 In choosing the best ERP software option for your company, there are many factors to consider. Cost, time investment in IT and personnel training, language availability, customizability, and features offered in the package.
While certainly not as cost effective as the free, open source platforms like GNUe, OpenBravo or Compiere, Netsuite seems to offer a lot in terms of providing a complete package to clients. Netsuite users have all the functionality of ecommerce systems, shipping managers, marketing campaigns, and even group calendaring and tasking functions. Netsuite is available in 12 languages, and will support the needs of companies in just about any country.
Netsuite is a fairly easy system to train, with intuitive software that is upgraded regularly. It is a particularly good for companies who wish to sell and market physical items and services, as the ecommerce platform is robust. Netsuite is best for larger companies, who deal with a staff of hundreds, however, because smaller companies may have a difficult time taking advantages of some of the accounting and marketing features that it offers. Image by kalleboo
Critics of Netsuite voice the same general complaints heard by most ERP software systems. While all ERP platforms suffer a bit from lack of customization options, Netsuite is particularly rigid in its ecommerce databases. There are few options for adding variations on products, or for selling multiple quantities of separate variants. Another complaint is that Netsuite's pricing sometimes fluctuates in relatively short periods of time, pricing many users out of its market as it expands. This is why Netsuite is recommended for larger companies, who have slightly more leverage when choosing their software packages.
Netsuite is proprietary, and uses its own script for its databases. Suitescript is a language developed by Netsuite, and any adjustments to Netsuite software must generally be outsourced to professionals. Netsuite also offered extender packages called Suite Extenders, for users who seek more functions, or customized options. Suite Extenders continue to work when updates occur, and are installed for the user by a Netsuite consultant. Suite Extenders are licensed annually, just as the main Netsuite software is, so this should be considered when purchasing an Extender package.
For users new to Netsuite, Blue Bridge One is a European implementation partner who will offer customer service, and aid in integrating Netsuite into your daily software use. They offer their own Suite extender packages, and aid in IT training and support for Netsuite users. Netsuite also offers its own customer service, with many avenues of contact and support available.
Netsuite also has several distinct products available, such as Netsuite One World, which connects businesses to their overseas subsidiaries, and Netsuite CRM+ which is especially useful to any user in the service industry, as it offers added functionality for customer management and interaction.