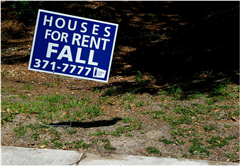 Recently a friend told me about his problem trying to manage several of his properties. photo credit: cdsessums
He currently has at least 5 properties. Some were willed to him when his father passed away while some he bought for investment purposes.
At the moment, he's having a tough time trying to manage the rentals for a few of his properties. At the same time, he's also paying up the home loans for a few units.
Basically he's having a tough time trying to track income and expenses made from his properties.
I told him that he should try to keep track of his entire portfolio which contains his property and lease information using an Excel spreadsheet.
Excel? It's 2010 already.. he said and asked if I know of any web based tools with property and rent management features.
I searched around a bit and found this one called Rent Monitor.

Rent Monitor is an online SaaS based property and rent management software for individual rental property owners as well as property managers.
At the moment Rent Monitor is only available in United States, Canada, Australia and UK. Although I'm not currently residing at any of these countries, I can still sign up for a free trial just to check out its feature and functionalities and attempt to promote it to others who may benefit from this web app.
Once you sign up for a Rent Monitor account, you'll get your own website address. For example – http://wareprise.rentmonitor.com
Logging in for the first time you'll see a summarized guide on what you can do within the application.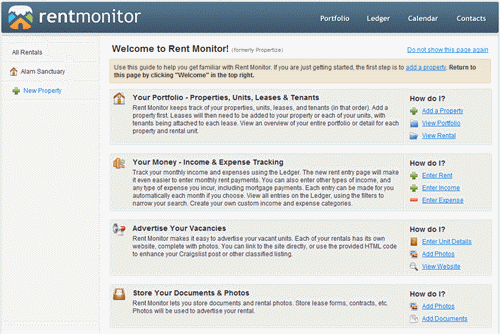 In general these are the key features:
Manage your property portfolio
Track income and expenses
Enter rent payments
Automate rent notifications via email
Analyze gross income, cash flow, etc
Advertise any new vacancies
Tax management
Contacts management
Store documents and photos
Calendar of events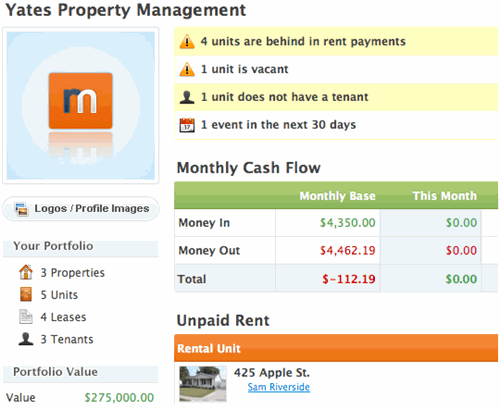 What I really like about Rent Monitor is the user interface which is really simple, intuitive and easy to use.
Another good feature has to be the rent notification where the tenants will be notified 3 days before the rent is due. At one glance you can easily see how many are late in paying rent.
Using Rent Monitor for a dashboard view of all your properties, rentals, loans is definitely a better way than using Excel to manage your property portfolio. Check them out today!