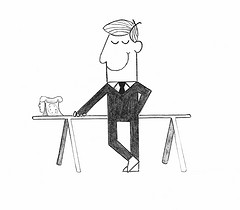 The open source ITIL software listed here are common software used by organizations as key enablers to their ITIL processes. There are five main disciplines within ITIL which has open source ITIL software to support the discipline's processes: photo credit: matt hutchinson
Service Delivery
Service Support
Infrastructure Management
Application Management
Software Asset Management
If your organization has limited budget for integrated and expensive enterprise software but realizes the need to apply and implement ITIL processes within the IT department or the company as a whole, check out the following list of open source ITIL software to support your ITIL processes.
Open Source ITIL Software
Service Desk – The single point of contact between IT Users and IT Service Management
Incident Management – The process to restore IT services as fast as possible to ensure little distruption
Problem Management – The process to resolve root cause of incidents and identify known errors
OTRS ITSM – OTRS::ITSM 1.0 is the first ITIL compliant IT service management solution on open-source basis, built on the solid fundament of over 55,000 known OTRS installations and the related active community. It is an ITIL compliant Open Source IT Service Management (ITSM) Solution. Requires the OTRS (Open Ticket Request System) framework. Besides all OTRS features, this solution includes Incident, Problem and Configuration Management, Integrated Configuration Management Database; Process Spanning Communication Management: within the IT Service Organization, towards Customers/Users/Management and Suppliers/Providers; powerfull statistical features for Trend Analysis, key figured Reporting, ITSM-Planning / Controlling; flexible configuration, customizing and expandability with regards to your individual requirements. Read a Review on OTRS.
OneOrZero Task Management and Help Desk System – The OneOrZero Task Management and Help Desk System is a powerful, enterprise grade task management and help desk application. It is fast, customizable and runs on virtually any platform and is released under the General Public Licence (GPL) Open Source license, allowing you to customize freely.
Eventum – is a user-friendly and flexible issue tracking system that can be used by a support department to track incoming technical support requests, or by a software development team to quickly organize tasks and bugs.
OSTicket – osTicket is a widely-used open source support ticket system. Plain and simple it is a lightweight feature packed support ticket tool written mainly using PHP scripting language.
Trellis Desk – Trellis Desk is a powerful, robust help desk solution for your business. Improve your company's service by allowing your customers to quickly and easily submit support tickets to your team. Trellis Desk sports a range of advanced features to revitalize the way your business handles customer support. Even better, it's completely free; you don't have to pay any license fees to use Trellis Desk.
* Added 11 Nov 2008 – List of IT Service Management (ITSM) tools
* Added 15 April 2009 – List of Free Incident Management software
More ITIL Tools for you to check out.

ITIL tools
Most complete list of tools that support the application of ITIL best practices ('helpdesk tools') - even Gartner uses this list for their Magic Quadrant studies.
NOTE: Also check the list of FREE tools . Both lists are never complete: please add any new tools you run into! This list is created in the context of knowledge sharing, but the most rewarding discussions have always been face-to-face. For that reason we support ConnectingFriends.NET.
Source: http://www.itwnet.com/products