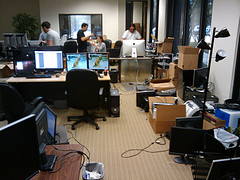 Your business needs to have good ERP software which can be depended on to take care of all business operations.
If your company is running a global business through the Internet or otherwise, then you will have to make sure that you have software that is able to handle the international market as well.
An ERP software like OpenERP can be considered one of the best open source options for you at present.
Now, what is OpenERP?

This is an ERP software that allows you to manage your business at all times. It will support your company profile by allowing you to have a system which is taking care of your sales, purchases, workflow and accounting.
It can also be customized to take care of assets, trading, production and stock management if that is what your company requires.
Personnel management, project management, planning and statistics are all part of the package and your financial management, from budget to payment of orders to analysis of the financial situation are all taken care of via OpenERP.
OpenERP's key features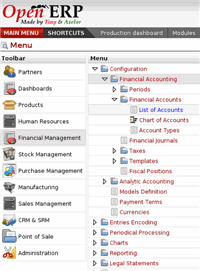 The key features of this software are based on making sure that your business is running on the best possible manner by helping you with all of the management related sources available which includes logistics, accounting and finances, human resources, project management, daily productivity and efficient communication.
Perhaps the most important feature of this software is the ability to start with what you require and to grow with the software in accordance to your needs. Therefore, whether you are a small company that requires certain amount of information or whether you are trying to run a huge business that has operations all over the world, this software will provide you with all that you need in a very simple and easy manner.
As far as the technical features are concerned, this software is easy to use and you can choose whether you want to have it as a Ajax Web client or a GTK application. It is completely internationalized. It is available in 20 languages and it has the capacity of understanding 40 different kinds of accounting charts. Its integrated business intelligence capabilities allow multiple users to be able to handle all the aspects of the software in a very dynamic and efficient manner. And the most important factor is that the reports and work flows that you require can be easily easily customized to your needs.
OpenERP Review Summary
This new developed version of OpenERP is seeing a lot of interest in the business market because of its unique features and because of the way it is being presented to the people, taking into consideration the desire to have business management that is web friendly, that is international, and that is simple to use at the same time.
If you have to study five books to understand software before you are able to install it in your system, then it seems as if you are investing a lot in something that perhaps your business is not going to be able to work with. The simplicity of this version is giving it the upper hand.
Other features of the latest version of the OpenERP include the object editor, the work flow edition and the report editor. You can also have ergonomic calendar views and your will have a fully integrated documentation system that will allow your work to flow easily.
There are many things that need to be taken into consideration when you are looking for a business software that is going to serve your purposes and although everything is not perfect, this software can prove to be extremely useful.
Recently, OpenERP released an All-in-one (server, client, web) Windows installer for those who are more familiar with Windows technology.
I hope you find this simple OpenERP review useful! For more details, check out OpenERP today!