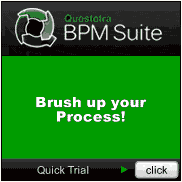 A recent article by Questetra about its free workflow samples prompted me to look deeper into what the BPM Suite has to offer.
My initial findings about Questetra is that its BPM Suite is available in both self hosted downloadable edition as well as web based SAAS edition.
Depending on your organization's IT policy and direction, both editions allow you to define and model your very own business processes and actually implement or enforce your predefined processes without the need for any programming work effort at all.
Although the term "without the need for any programming work" entices many non technical business users, it is still important for the business process analyst to understand some of the following business process modelling key terms such as:
Activity
Tasks
Allocation
Workflow pattern
Gateway
etc
But in layman terms, the BPM Suite allows you to:
1. Design business process models
For example if your organization has frequent problems with stationary requests, you can design a process model which indicates how stationery requests can be made, who should be the approver, once approved who will do the purchasing, etc.
2. Activate the business process model
After a business process model has been defined via the BPM Suite Modeler, the process designer would activate the process to allow users to actually use the application based on the defined processes.
3. Users can begin using the application
Once activated, users can now submit a request for stationeries via the BPM Suite as the system automatically takes the appropriate actions such as notifying the approvers to take action on a particular request.
Besides using the BPM suite for a stationery request workflow, the following are some more free worfklow samples as provided by Questetra:
For Manufacturing Industry:
Estimate Process
Order to Production Process
Invoice Issuing Process
For Contact Center Industry:
Inquiry Response Process
FAQ Addition Process
Study Group process
Do note that the above samples aren't just process diagrams but actual process models which can be downloaded and edited / improved upon via the BPM Suite Download – Free Edition.
If your organization is interested to implement a BPM solution to address all of your organization's processes, feel free to also check out this list of top open source BPM / workflow solution.
Although Questetra BPM Suite is not open source, it allows your organization to test and try its capabilities before deciding to proceed with its paid version. The system is quite transparent in terms of it features, functionalities and user interface. Basically it's not something that you'll have to buy / invest first before you can see it's capabilities.
If your organization is planning on automating a process within the organization, it's recommended to give these BPM tools a try in order to find out which tool fits your requirements best.
Till then, happy process modelling!