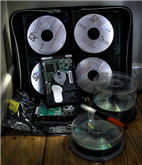 There are many ways to backup important files. The following are some ways people safe keep their files:
Save files and documents into an external drive such as a memory stick, a hard disk or burn into a cd.
Copy files into a file server at home or at office.
Send an email with an attachment of the file back to him or herself.
Today, there are numerous ways for people to backup their files, but many are still not safely storing their files elsewhere in case of a virus attack, a hard disk crash or the case of a stolen laptop. Photo by scalespeeder
One reason why files are not backed up is because it's time consuming and inconvenient. Imagine having to manually copy all your music, family / child / wedding pictures, term papers, financial documents, legal documents to an external drive all the time. It can be quite a painful process for those who are working on new files everyday.
Recently, Internet bandwith and speed has improved tremendously enabling people to store and keeptheir data somewhere else through online backup technology.
In this post, I will guide you through how you can safely backup important files online for free.
Introducing Mozy's online backup solution.
Mozy's online backup is a secure solution that is easy and possible for everyone to access and use.
What I like about this backup solution is its security features such as 128 bits SSL encryption, the same technology used by banks to secure data during the backup process.  Besides that I also need not worry about my data being hacked by a hacker thanks to its 448 bit Blowfish encryption capability.
So in terms of security, I can be assured that my files are in safe hands. As for convenience, MozyHome finds and saves the smallest file changes so that only the latest files are being stored. You can also schedule the times to back up and MozyHome does the rest.
To start of, firstly head over to Mozy to get your very own 2GB Free Online Backup – Mozy

Once there you should be able to register for a MozyHome Free Account. Simply fill up an email and a password and click on the continue button to proceed.
The next page requires you to fill up some standard information such as your name, the country you're from, etc. Once done, you will be sent an email which you will need to verify in order to download and install Mozy on your computer.

Now check your email. You should see an email from [email protected] with the title Welcome to Mozy! Clicking on the verification link should bring you to the download page.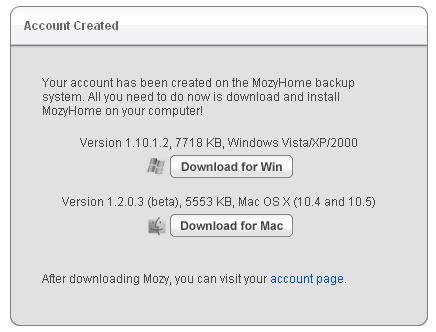 Note that MozyHome works for both Windows as well as Mac OS X. Not many online backup solutions support both these operating systems. Depending on what OS is installed on your machine, click on the appropriate download link. For Windows it should take about 7.5MB while the Mac installer is about 5.4 MB.
Once downloaded, click on the executable file to install it.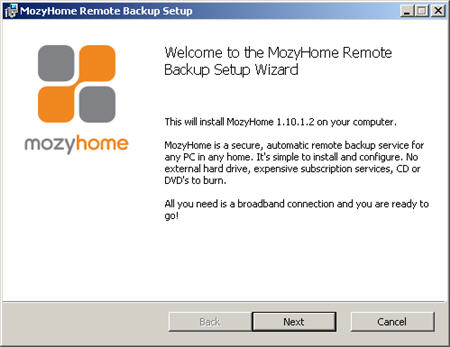 As usual, click Next all the way till it completes the installation.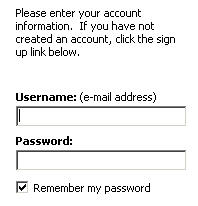 Once installed, you can now login by simply entering your username and password.
The next screen requires you to select an encryption method. Either MozyHome's 448 bit Blowfish key or your own 256-bit AES key. I selected the Blowfish key since it was the recommended method.
Clicking Next, MozyHome will automatically scan and configure your system. Once completed you should see that your files have been grouped accordingly.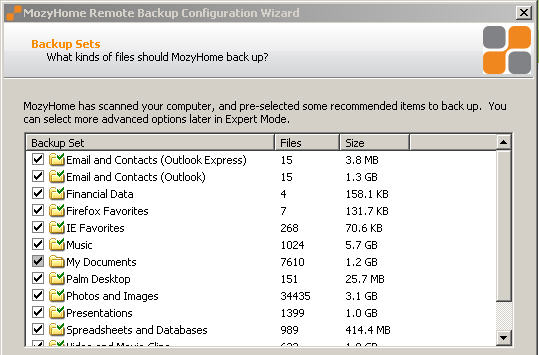 What I like best is it automatically scans for my Outlook's email and contacts which are the most important piece of information in my machine which I want backed up regularly.
Once you have selected what important documents needs backing up, click Next to proceed.
Then it does a bandwidth test to let you know how long MozyHome needs in order to back up your files up online.
In the end, you can start your back up immediately, or let it start when your computer is idle or continue with the configuration process in Expert Mode.
After you have made a decision, MozyHome will run its processes accordingly.
Note that it order to bring up MozyHome again, you can easily access it from the taskbar on the bottom right.

Clicking on the icon, it warned me that no backup was done so I allowed it to proceed.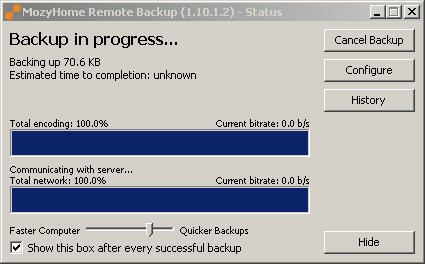 In the case of this screen shot, I only selected 70.6 KB of IE favorites data to backup so the backup process was really quick.
Now that your files have been successfully backed remotely in Mozy, you no longer need to worry about losing valuable data. Even if your machine has been stolen or destroyed in a fire, all you need to do is access your online account and you can restore it easily to your new machine.
I hope this post gives you a rough idea on how you can safely backup important files online for free. Note that this free account has a quota of 2GB of backup data. If you need additional storage, simply upgrade to Mozy Unlimited Backup – $4.95/Month. Enjoy!