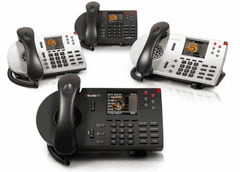 Since the widespread adoption of VoIP telephony began, there have been a myriad of myths and misconceptions as to its advantages and uses in both the consumer and business markets. These myths have persisted largely thanks to a disparity between common knowledge of VoIP and the rapid advancement of its related technologies that have existed under the public radar. One of the largest struggles between proponents of VoIP adoption in businesses has been the inability of IT staff and consultants to show all of the unseen advantages and tools to management in such a manner that properly illustrates their effectiveness.
All these valuable but difficult-to-explain advantages – revolutionary productivity tools, scalability, low cost of ownership, unlimited customization – can be seen clearer than ever before in the interface of the most recent iteration of the Call Manager software from leading enterprise VoIP equipment manufacturer ShoreTel. All of the luxuries of an advanced system are immediately apparent in basic use of the platform.
Some Examples:
Moves, adds, and changes have been a costly process for businesses ever since the advent of the first business class PBX systems, often requiring expensive technicians to be called in to do the work, frequently causing downtime and sometimes needing large pieces of equipment to be replaced and repurchased to accommodate growth. ShoreTel's Call Manager software has  an incredibly simple interface that allows all moves, adds, and changes to be conducted within the system by any user with rights, regardless of technical aptitude or training. The rest of the process is just a matter of getting more phones, possibly an additional switch, and hooking it all up. No wiring, no downtime, no additional cost – just any authorized employee, perhaps an HR representative or office manager, making changes instantly via software.
Office Anywhere allows users the flexibility to remain fully capable of accessing your system's features when and wherever they are – all they'll need is a stable internet connection. Instant access to all contacts, features, and the ability to route calls anywhere with a single click allows users to enhance their own productivity by working at home, on the road, at a hotel, at an airport, at a client location, or elsewhere. The system can even be configured so that a user can call from his or her cell phone, and the call would be routed through the system so that the recipient of the call views it as from your office. The best part, of course, is that all of these options can be configured by any authorized user, in real time, with a few simple clicks and no intervention from IT staff.
A quick look at all of the features on the Call Manager interface and it becomes easy to imagine how any sort of functionality is possible through customized development. ShoreTel's API makes it easier than ever for software developer's to create add-ons to Call Manager or to integrate functionality between  Call Manager and other popular software. Doctors' offices have developed add-ons that transfer profile information from patients each time a call is transferred, eliminating the need for patients to answer the same questions repeatedly and speeding up the administration process. Sales teams have allowed Call Manager to communicate with their CRM software, automatically identifying and logging incoming and outgoing calls to appropriate lead records, saving staff time and ensuring total accuracy of those records. The possibilities are endless and can be extremely beneficial.
The benefits of VoIP telephony for business are numerous and lucrative, but it's rare to find a software platform that makes it all so simple and immediately usable. If you're considering going VoIP, take a good look at the ShoreTel system, especially if you're a smaller, budget-minded business. The Call Manager platform allows a level of efficiency that is difficult to find among competing market offerings.
Michael Holley
Switchfast Technologies
www.switchfast.com