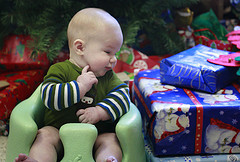 Recently I downloaded the source codes for this website. photo credit: babasteve
To my surprise, the downloaded source codes were about 150 MB in size. What could be taking up so much space? A typical WordPress site takes less than 30MB. There must be some extra files sitting in there.
On my Windows Vista, I opened up the folder and attempted to find out which folder is taking up so much space.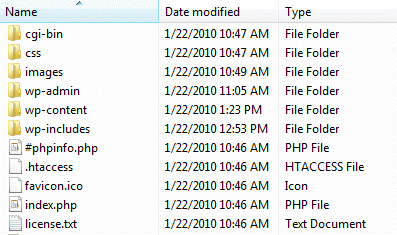 As you can see from the screenshot above, the Windows Explorer does not show the size of each folder. If you want to know the size of a folder, you'll need to put your mouse over the folder to see its size, just like below.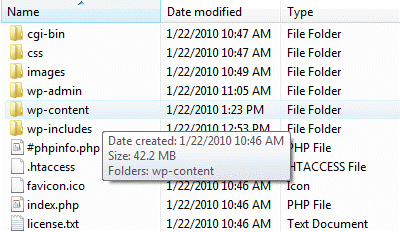 Imagine if you had 100 folders! It's way too time consuming to mouse over a hundred folders! There must be an easier way to find out which folder has the largest files.
Luckily there's this tool called SC-DiskInfo – an easy to use disk space usage analyzer that allows you to see which folders take up the most space.
I downloaded and installed SC-DiskInfo, ran it and gave it a try.
A cool feature of the tool is its ability to integrate with Windows Explorer. The screenshot below shows what I mean.
When you right click a folder in Windows, you can see this option to Analyse with SC-DiskInfo.
Clicking on it will launch the tool and this is what I get:

See which one stands out? Obviously its the wp-content folder which is taking up 79.8% of the space.
To drill in further, simply click on the wp-content folder and it shows me another analysis of the folder.
In less than a minute I found out which folder was taking up the most space and deleted some big and unnecessary files.
This method simple beats having to mouse over folders one by one.
If only Windows could build this into the OS by default. I wonder if Windows 7 has this capability built in so that users can manage their hard disk and space better.
Anyone using Windows 7 care to share?
Till then, check out SC-DiskInfo today!