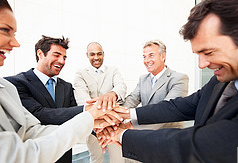 A single online team collaboration tool which is capable of handling most business related processes is what your organization needs if it is currently relying on multiple software to manage collaboration among all office employees.photo credit: homesbythomas
In the past there weren't that many software that's capable of providing multiple features in within one single platform.
Users need to maintain multiple user logins and server administrators having to maintain several software / servers can really be a hassle and not as cost effective.
Users had to remember usernames and passwords for their Email account, HR system, Document Management system and a few other software which were deployed by the IT team.
This is a problem of the past as software vendors have taken this challenge into consideration and built systems which provides a single sign on access to most office related functions within a platform.
One such online team collaboration tool which includes HR and Accounting functionalities is TeamWox.
TeamWox is a groupware developed by the folks at MetaQuotes Software.
Initially the software was developed for in house use and wasn't available for sale but over time, they realized that other organizations could also benefit from using the system, thus the commercial version – TeamWox was developed.
TeamWox can be deployed and implemented in several ways namely:
Free version (Up to 10 users)
Trial version (Fully functional for 2 months)
Standard version (License for 25 users or more)
SaaS version (Installed and hosted by TeamWox)
Academic version (Free full featured version with unlimited subscription to updates)
All delivery method besides the SaaS version allow for the software to be downloaded and installed on a Windows based PC / server with the following minimum requirements:
Windows XP2 or higher
Pentium 4 or higher processor
RAM of at least 1GB
HDD of at least 100 MB free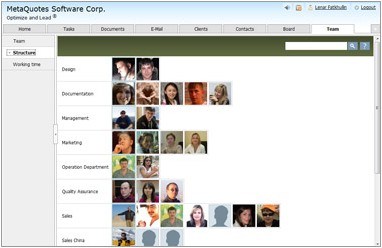 The key features of TeamWox includes:
Email
HR Module
Service Desk
Task Management
Accounting Module
Online Assistant / Chat
Document Management
and more…
When I first used TeamWox, I realized that the available functionalities is quite similar to Outlook where we use it commonly for emailing, setting appointment schedules via the calendar,  adding tasks via the task management function as well as adding contacts into Outlook.
When everyone in the office uses Outlook as an individual, it can be a challenge to share information with co-workers, unless Windows Sharepoint Services is deployed.
TeamWox by default addresses this need for more collaboration among team members within an office environment.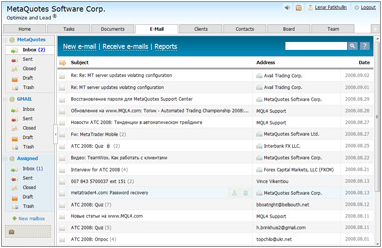 For example, the email module within TeamWox isn't just an ordinary email client. It includes integration with the task management module to ensure that an email is closely followed through via a task which is assigned to a responsible worker. Attachments for an email can also be integrated with the document management module to ensure that the latest document which resides in the central document repository is attached.
Besides the email module, I also like the online assistant feature which acts as an internal chat server to ensure that all communications within the organization stays secure in house. This feature is a great alternative for those who have disabled / banned instant messengers like Yahoo Messenger, MSN Messenger or ICQ within their office network.
If TeamWox also includes a project management module in it, that would definitely make the tool even more complete.
Overall I find TeamWox to be able to fulfill most business requirements needed by organizations for an online team collaboration tool.
For more details on how an organization can leverage on TeamWox to further enhance team collaboration, do check out TeamWox today!